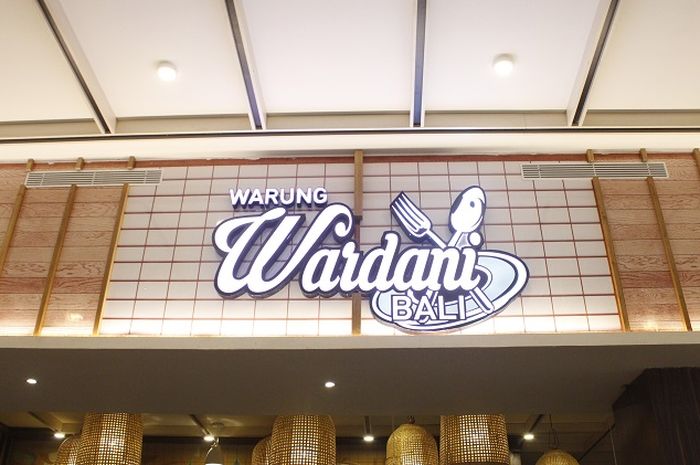 Warung Wardani at Transpark Mall Bintaro brings the legendary nasi campur Bali (Balinese mixed rice) to your table.
Warung Wardani at Transpark Mall Bintaro, South Tangerang, brings the legendary nasi campur Bali in an unpretentious manner.
Kitchenesia.com - No one knows when Warung Wardani Bali was established. Some online sources said it had been running since mid-1980. The only thing I know for sure is that, within more than two decades, Warung Wardani has been a sought-after Balinese restaurant for low-budget travelers to posh tourists alike.
According to Soniya Ana, Warung Wardani's popularity in Bali was untouchable. The Brand Executive of Warung Wardani told us how the sidewalks around the restaurants became unofficial parking lot when lunchtimes. I was slightly shocked to learn such a restaurant can give much impact.
Read Also: Iki Koue at Neo Soho Mall, West Jakarta, Traditional Sugary Treats in an Artful Edge Is Their Speciality
Its popularity has phenomenally grown even to people outside Bali. However, there hadn't been a massive expansion other than two branches in Kuta and Denpasar. Until in 2018, Warung Wardani was brought to Jakarta under PT. Trans F&B's operation.
Balinese restaurant is nothing new in Jakarta. Similar restaurants have run well in the city, comprise of luxury restaurants to small stands by the street.
Warung Wardani is indeed a new player in Jakarta's Balinese dining scene. Considering it holds Warung Wardani's name, it shouldn't struggle to compete against big names.
Modest Bali Vibe With a Modern Spin
Warung Wardani seems to be mindful about its possible popularity. Behind the entrance, the seating is set up to load as many people as possible. It carries some of bistro qualities: medium-sized eatery serving traditional fare. The location doesn't give much intimacy; but hey, intimacy is about how you connect with a person across you.
Bintaro borough immensely inspires Warung Wardani in terms of design. Soniya said that bistro-like eatery defines Bintaro as a lifestyle hub for youth. As a result, Warung Wardani has the Bali vibe that set up in ways suited to locals. It didn't try to make you feel as if you were eating in a 500-year-old Hindu temple in Bali.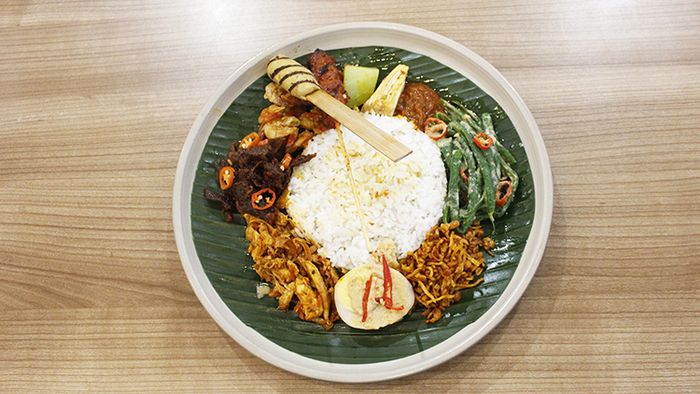 Nasi campur wardani dengan tujuh topping features a riotous assembly of seven side dishes in one plate.
Read Also: Laksa Betawi Asirot, Authentic and Unpretentious Taste of Jakarta's Rarest Dish
Despite having limited space, Warung Wardani succeeds to create modest Bali vibe. All-natural color scheme of wood and green dominate every corner. The open kitchen clearly shows how the foods are done, giving me a live attraction and sense of anticipation.
Make You Feel Like Eating at Home
First to arrive at my table is five skewers of sate lilit (minced meat satay). They are thick, soft, and rich in spices. I think the richness of spices makes Warung Wardani's sate lilit become the most favorite food. These satays somewhat change my mind about Balinese cuisine. It is not all about big foods. There are some appetizer-like foods, such as these sate lilit, that can satisfy any appetites.
Warung Wardani's sate lilit (minced meat satay) features thick lamb meat immersed in a spices richness.
From the length of the food name alone, anyone can tell nasi campur wardani dengan tujuh topping (Balinese mixed rice with seven side dishes) is exceptional. The seven side dishes comprise of: fried shrimp, beef jerky, hardboiled egg in a pindang stock, jackfruit soup, sauteed long bean in kalasan flavor, spicy shredded chicken, minced chicken satay, and beef satay.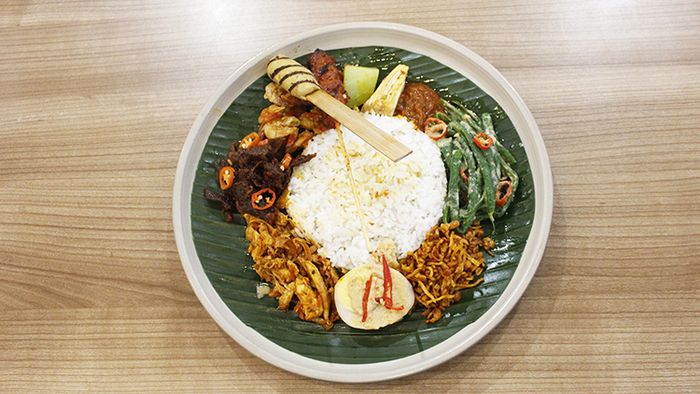 Nasi campur wardani dengan tujuh topping features a riotous assembly of seven side dishes in one plate.
Read Also: Mercure Hotel Jakarta Kota, Lives Up To Be Stylish In A Modest Yet Luxurious Way
I'm reasonably sure that nasi campur wardani dengan tujuh topping is what makes Warung Wardani Bali famous. A riotous assembly of all the preceding side dishes plus a bowl of rice in one plate is a summary of Warung Wardani's menu list. If you couldn't decide one food, choose this instead.
Another most favorite main courses are nasi ayam betutu (grilled chicken in betutu spices) and nasi bebek garing (Balinese-style fried duck). Each food includes a bowl of rice.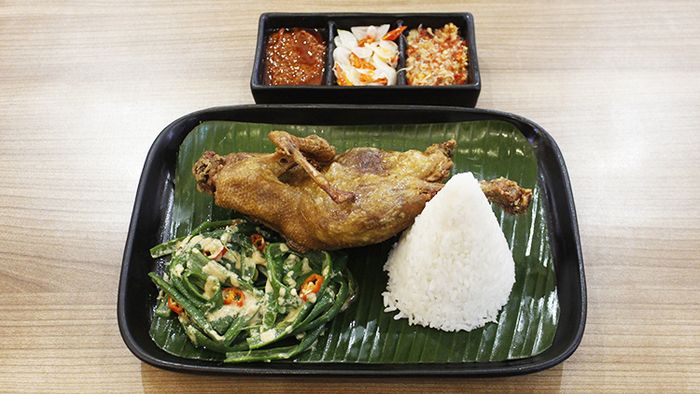 Warung Wardani's nasi bebek garing looks like an everyday food that is handled with care.
Both foods look decent; they're behaving as if they were homemade. But after you wolf them down, you will remember the chiles. You'll remember the richness of spices aroma and flavors. Both seem like everyday foods that have been smashed with care.
At first, es jeniper sounds like it has something to do with someone named Jennifer, as they rhyme. It turns out there is no symbolic philosophy in it. Es jeniper means "a fruit punch made of key lime extract". It simultaneously exudes flavors of tangy key lime extract and sweetness of sugar with a hint of mint. Another best part, its portion is pretty big.
Warung Wardani's es jeniper provides tangy and sweet flavours at the same time.
Baca Juga: Chandra Yudasswara On Being Celebrity Chef and A-List Restaurateur: 'Never Forget My Roots'
Other Balinese restaurants could create Bali vibe one hundred times better than Warung Wardani. But its foods are pretty helpful to explain the Balinese culture to locals who might not understand Bali well. There's no real-sized temple cutout or colossal Barong decoration. You simply sit back and let yourself immerse in authentic Balinese foods.
Warung Wardani, Transpark Mall Bintaro 2nd floor, +6282208201111
Full video: