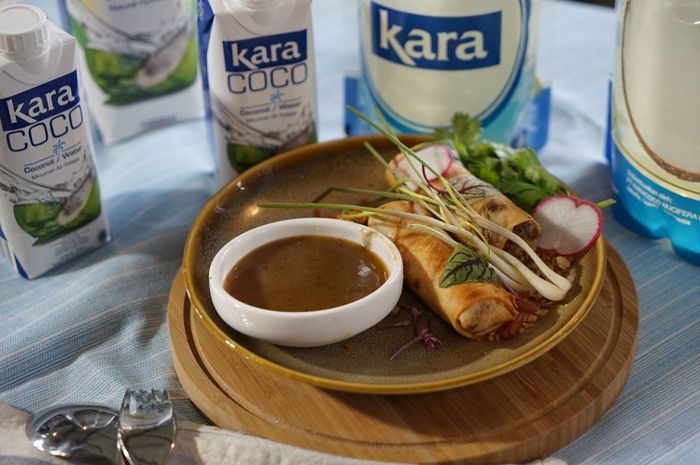 Chef Samuel Tumbelaka has prepared eight traditional dishes using KARA's products.
Kitchenesia.com - In Indonesia, coconut cream is not a mere ingredient to enhance flavor and texture. It is an inextricable part of Indonesia's culinary heritage.
Visit any traditional restaurant in most provinces, and you will find coconut cream is used in almost every item on the menu, including beverages.
As one of the biggest local-owned hotel chains in Indonesia, BATIQA Hotels aspires to promote traditional Indonesian cuisine.
BATIQA Hotels is adamant that its F&B team only uses high-quality ingredients in every recipe.
In order to achieve this, BATIQA Hotels teams up with KARA to create eight signature traditional-inspired dishes.
KARA is the pioneer of packaged coconut cream in the world.
"We have prepared eight traditional dishes. All of them use KARA's products," explained Chef Samuel Tumbelaka, Corporate Executive Chef of BATIQA Hotels.
KARA's products that are used include KARA Coconut Oil, KARA Coconut Water, KARA Desiccated Coconut, KARA Coconut Milk, and KARA Nata de Coco.
The eight traditional dishes feature appetizers, main courses, and desserts.
They are Semarang spring rolls, crispy salmon poke bowl, Dewata-style grilled ribs, prawn laksa, klopo satays, woku chicken, Kara Nata de Coco mousse, and wingko babat (coconut pancake).
"As the pioneer in the coconut industry, we aim to inspire our customers about traditional recipes using coconut products. We also would like to introduce KARA's products, such as coconut oil, coconut water, desiccated coconut, and nata de coco," said Dwianto Arif, Corporate Communication Manager of Sambu Group.
BATIQA Hotels & KARA Indonesia collaboration will start in late October 2022. Make sure to follow @batiqahotels and @indonesia.kara to stay up-to-date with the content.
Tags