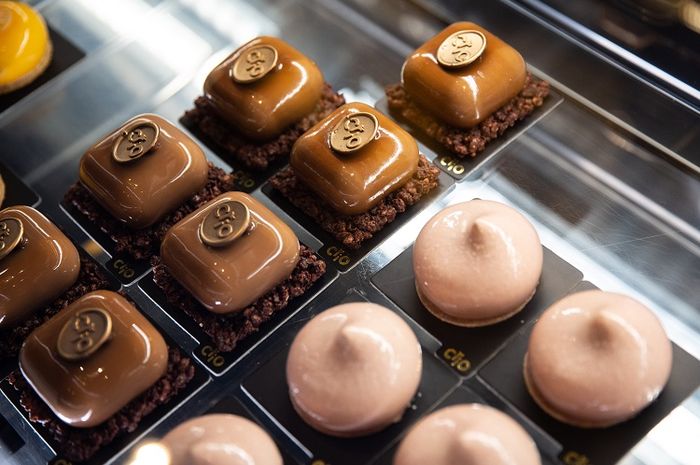 Located in Menteng, Chef Richie Pratadaja opened his restaurant Crio.
Kitchenesia.com - Chocolatier Chef Richie Pratadaja finally returns to his native Jakarta. But this time, he opens a restaurant of his own. On Wednesday (11/2/2022), Richie welcomes the press to his restaurant, Crio, located in Menteng, Central Jakarta.
"The construction was started in late 2021. Crio was officially opened to the public on June 8, 2022," said Richie in his speech.
Richie Pratadaja spent more than 11 years in the US. He joined the famed Bellagio Hotel in Las Vegas as a baker. Then he got to hone his skills more in chocolate at FIKA, where he worked as a sous chocolatier.
Richie returned to Jakarta in 2019 to make his dream came true: owning a restaurant. But only a few months went by, the pandemic hit. The Le Cordon Arizona-alumnus decided to start humbly. With the help of his brother, he opened cake orders via social media.
"My brother drove the car, while I held the cakes tightly to prevent them from crumbling and falling apart."
Despite the hardship, Richie admitted the cake market in Jakarta is promising.
"I learned that Jakartans is appreciative of this kind of cake," said Richie.
Crio derived from Portuguese word, which mean "to create". Here, CRIO focuses on creating a one-stop experience where people can enjoy savory food, desserts, and bespoke cocktails.
Baca Juga: Pos Bloc Review, A Creative Space Rebranded From A Century-Old Post Office
Chill restaurant to wind down after work
CRIO can accommodate 125 guests in the main dining area, bar section, and two private rooms.
The semi-VIP Room can hold up to 18 people, while the VIP room with a 65-inch interactive whiteboard could easily fit up to 20 individuals. Guests can hold meetings or gathering here.
Check other news and articles on Google News
Tags