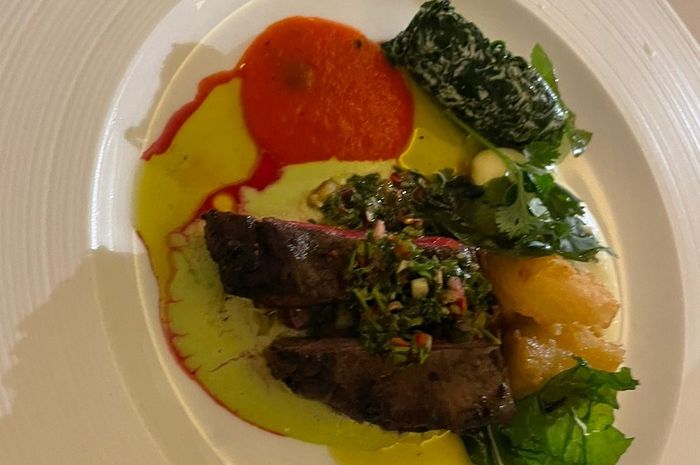 Seared Pommery & Rosemary Wagyu Flank 7+ by Chef Chandra Yudasswara and Chef Raymond Rjaily.
Kitchenesia.com - True friends may live apart, but the bond remains strong.
Chef-cum-restaurateur Chandra Yudasswara reunited with his old friend Chef Raymond Rjaily after seventeen years apart.
"The last time we met was in Dubai. Finally we meet again here in Jakarta," said Chef Chandra.
The reunion of both accomplished chefs happened during the Beef Talk, an intimate dinner and talk show organized by True Aussie Beef and Mandarin Oriental Hotel, Jakarta. It took place at Lyon restaurant, on Friday (5/27/2022).
At Beef Talk, Chandra and Raymond worked together showcasing their beefed-up skills in creating excellent dishes using Aussie beef. Three main courses were presented at the dinner.
Coming first was three medium-rare cuts of Seared Pommery & Rosemary Wagyu Flank 7+. Embracing his Indonesian roots, Chef Chandra Yudasswara used fried cassava instead of potato. Fried cassava is a popular street snack in Indonesia.
Here, guests were able to experience firsthand the cooking prowess of Chef Raymond Rjaily. The executive chef of Mandarin Oriental hotel presented 8-Hour Slow Braised Black Angus Beef Shank. Shank is notoriously tough for it comes from the leg, thus considered as a secondary cut. Surprisingly, the result came otherwise: soft and juicy.
The Lebanese chef revealed his secret to turning shank cut into fall-off-the-bone soft. Hint: Aussie beef and cooking method.
Read also: Chef Sezai Zorlu Shows off Simple-Yet-Delicious Ottoman Food Cooking Demo, Using Australian Lamb Meat for 'Lambassador' Event
Mighty Tasty and Healthy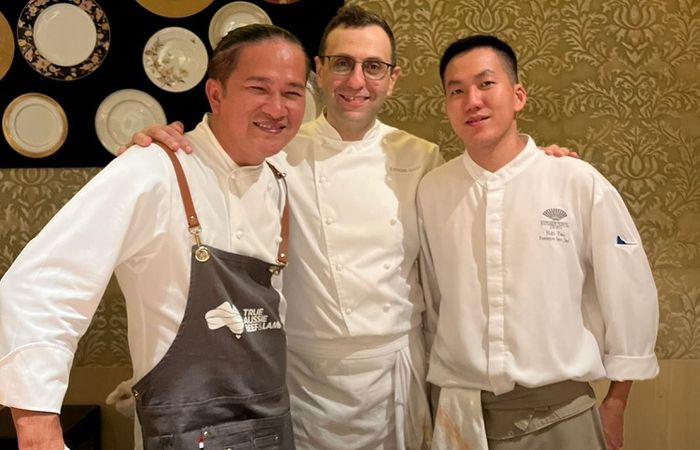 Chef Chandra Yudasswara (left) and Chef Raymond Rjaily (middle) of MO Jakarta show up their cooking skill using Aussie beef at Beef Talk dinner at Lyon Restaurant, Friday (5/27/2022).
"We slow-braised it for eight hours in low heat," said Chef Raymond Rjaily.
Tags