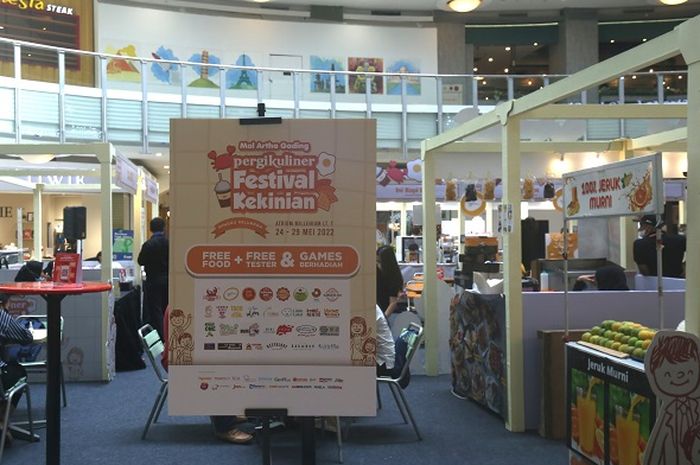 Most-awaited PergiKuliner Festival Kekinian is held at Artha Gading Mall for six days, May 24-29, 2022.
Kitchenesia.com - This weekend is a foodie's paradise because about 28 viral food stalls flock to Artha Gading Mall, North Jakarta.
PergiKuliner Festival Kekinian is held for six days, from May 24-29, 2022 on the first floor, Millennium Atrium Artha Gading Mall. Here, you can enjoy hundreds of viral foods the internet has been obsessed with.
The food bazaar offers guests a variety of foods and beverages from main courses like mixed rice, desserts, and fruit punch.
Boosting 'Family Week' as the event's theme, PergiKuliner aims to recreate the family dining out activity, a routine that has been disrupted due to the pandemic.
"As we're in a far better condition, PergiKuliner aims to recreate the tradition of family dining out," said Oswin, CEO of PergiKuliner.
In addition to the food bazaar, guests can also participate in fun games and win great prizes.
PergiKuliner app users can enjoy privileges in this event, including free testers, free collective vouchers for minimum purchase Rp. 50,000. Guests can also earn free food by simply adding the keyword "Kumpulkeluarga" on the PergiKuliner app.
Here are the participating food stalls at PergiKuliner Festival Kekinian, Artha Gading Mall: Alpukat VIRAL, Baby Crab Idola, Bagonar, Bakso cwan in, Beefology, C Bakes, Chicken Holic, Cilok Buron, Dapur Ronde MKA, Dimsum Benhil, Eggtime, HoOD (House of Original Drink), Hwang Geum, Ini Kopi Ulon, Kuroffle, La Casa Ice Cream Zangrandi, Lidah Lokal, Master Nasi Pedas Bali, Mini Singapore, Pempek Metro Atom, Penang Restaurant, Pondok Es Cendol 1990, Sate Kaisar Maranggi, Sobat Mentai, Summer House, Taco Pedia, Tims Donut, dan Uncle Orchard Es Potong.
Full video:
Tags