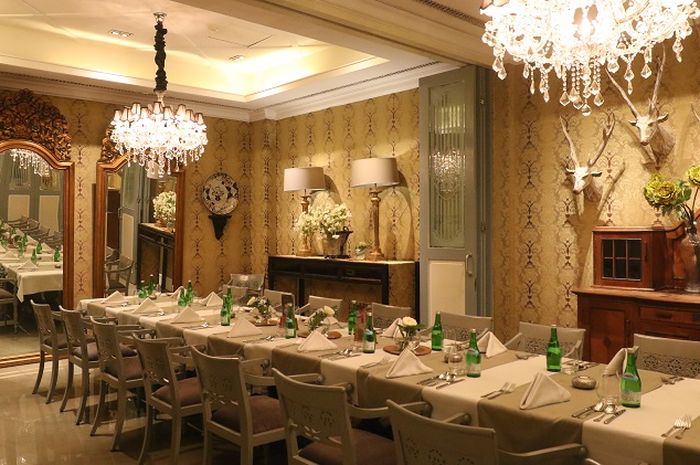 Bunga Rampai Restaurant in Cikini Is Jokowi Approved, Every Money Spend on Is Worth It!
Kitchenesia team feels obligated to review a trendy Bunga Rampai Restaurant in Cikini, Central Jakarta. We had a great experience. And though it came with extravagant figures on the menu, it was all worth it.
Kitchenesia.com - Menteng is a lifestyle hub where Jakarta's crème de la crème gather. Here the streetscape is dominated by Jakarta's finest establishments: from five-star hotels, lavish pubs, to haute restaurants. Thus, a castle-like restaurant like Bunga Rampai nestled in this area might not be so out of place after all.
For me, fine-dining culinary scene is not quite to my liking to the point of almost miserable. People would rate it highly despite their tasteless foods and tiny portions. They might be too afraid to be called out as a "jealous tacky people" for criticizing something most people praise for.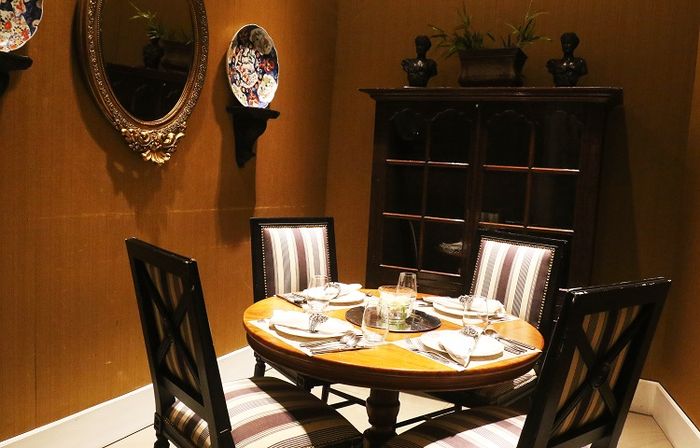 Private dining room in Bunga Rampai Restaurant looks like a villain dining table in movie.
Then there is Bunga Rampai, a fine-dining restaurant reaching its 12th anniversary this year. There must be a selling point of Bunga Rampai considering that the place is really celebrated. Even Jokowi is a loyal customer of th eplace. Then what makes it special? We're about to find out.
Grandiose Ambience Doesn't Sacrifice Comfort
Look carefully at the façade of this restaurant: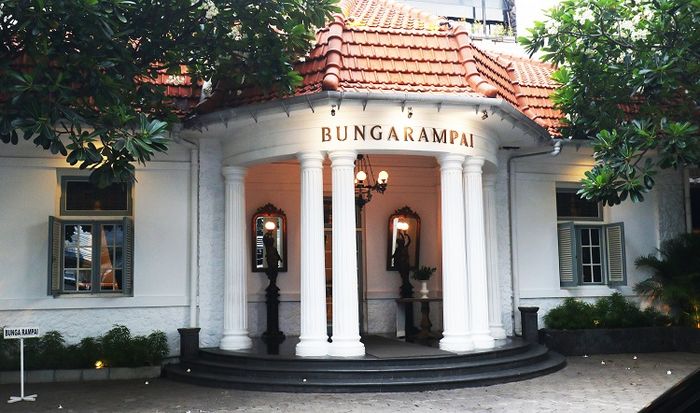 Bunga Rampai has a small doors which passers-by always look into
Bunga Rampai is designed with luxurious entry with small doors and windows so that passers-by could only see a glimpse of activity inside.
But enough to make them intrigued. At least people will acknowledge that it is a fancy restaurant from outside only.
The ultra-luxury design extends to first and second floors enforcing "more is more" concept, looking like a dining hall from children's fairytale book. The walls are draped in white to gold scheme, and each dining room is with its own intricate design. Between displays there are a plothera of typical neoclassical ornaments: a couple of victorian chandeliers; pretty flower arrangements as centrepiece; and colonial-artsy wall mirrors.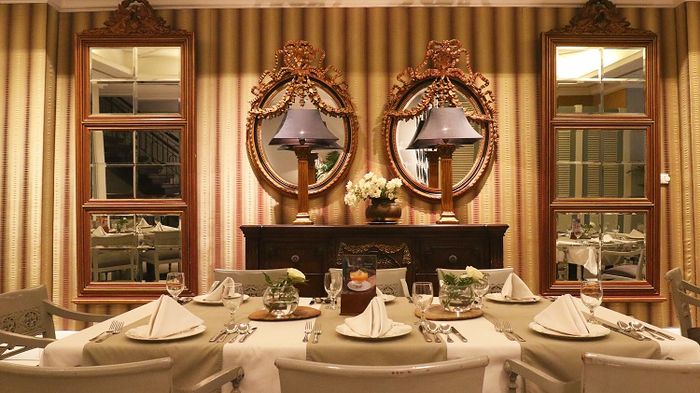 Bunga Rampai's neoclassical-minimalist design gives me an impression of a dining table where Queen Elizabeth II having a tea at.
As a result, its pretentious design would makes some people overwhelmed, including myself.
But worry not, Bunga Rampai also facilitates vibrant young adult guests by providing casual-vibrant rooftop bar. Don't expect it to give a spectacular 360-degree panoramic view of the city because it won't happen. Bunga Rampai's rooftop bar is on third floor. It doesn't give much view except busy gridlock of Teuku Cik Ditiro Street.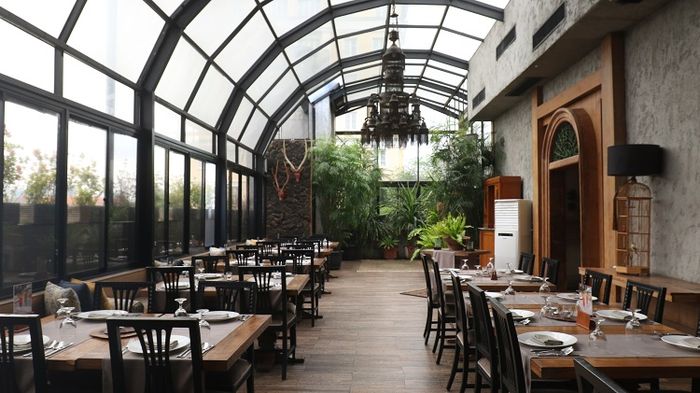 Rootop bar of Bunga Rampai Restaurant highlights laid-back luxury with earthy design and mini garden.
The concept is full of lovely possibilities: visible tipsy evening sky as sun reaching into shady side through glass roof; downlit area with subdued with nature-inspired design; and mini fern garden as a little oasis that beautifies an eyesore. But still, this rooftop bar is what its root about: a fine-dining restaurant. Thus, fine-dining details like utensils arrangement are elegantly placed on every table.
Does this mean Bunga Rampai's luxury is fading on its rooftop? Definitely not. Instead, their focus to highlight laid-back ambience absolutely heightens my convenience. Some guests still want luxury, but of course, they prefer doing it in comfortable manner.
Fine-Dining Food with Local Touches (and Local Portion)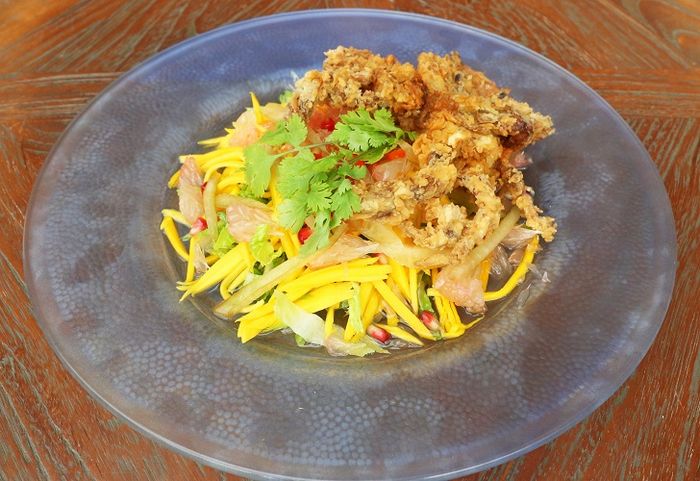 Bunga Rampai's Kepiting Salad Mangga is pretty fulfilling and refreshing appetizer
Kicking off was Kepiting Salad Mangga (Fried Crab with Mango Salad), a Thai-salad-inspired appetizer given a refreshing, modern spin. Fresh mango slices and sweet simple syrup is forced to make friends with a savory fried crab. It is impressive and, much to my surprise, is just-sour-enough-just-savory-enough. Also, most importantly, this dish is definitely an eye candy.
Then came a main course of Konro Bakar (Makassarese Roasted Back Rib). Instead of coming with Konro soup, the roasted back rib is a solo actor now. There are two sambals that come separately: Sambal Dabu-Dabu (Manadonese Raw Sambal) with just the right punch of acidity, and Javanese Sambal Terasi whose spiciness and savory are done well.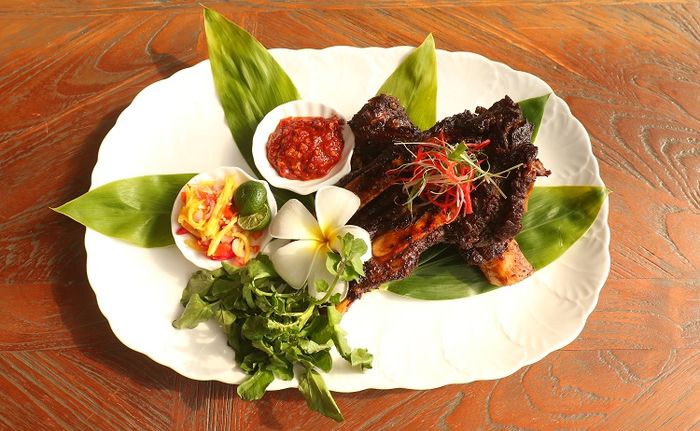 Bunga Rampai's Konro Bakar brings many cultures on one plate, and I bend my knees to its kitchen team because of that.
Konro Bakar brings many cultures on one plate, and I bend my knees to Bunga Rampai's kitchen team because of that. It is not just a dish. Instead, it is an epitome of meticulousness. The whole rib is averagely marinated with meaty sauce and no part gets more sauce over another. Its crumbly and soft meat makes my dining activity hassle-free. Not to mention using lalapan (raw vegetables) as garnishes? What an unmatched creativity.
Bunga Rampai's Tahu Telor is more like a snack than a main course
Local street food also makes an appearance at Bunga Rampai. Tahu Telor (tofu-stuffed fried egg) is shaped into 12-centimeters-height food. It comes with a separate petis sauce, though it is less spicy then the original. Our waiter said it was a main course; even though growing up buying street food, I think it is more appropriate as snack.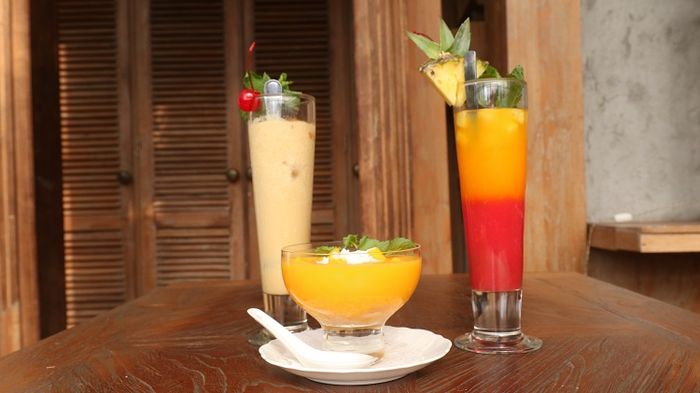 From left to right: Kembang Sepatu (left), Rasa Mala (middle), Gelombang Cinta (right). All are artisanal dessert of Bunga Rampai's Head of beverages, Chef Bambang.
We finished with Rasa Mala, a mango dessert with a set filling nata de coco and and whipped cream. And then there is Gelombang Cinta. Its combination of sweetness from grenadine syrup and herbaceous mint leaves is intended to complement sourness from orange juice and pineapple slices. Gelombang Cinta (i.e Love Wave) is a best-seller summer drink at Bunga Rampai thanks to its freshness.
Lastly, there is Kembang Sepatu. No, there is no hibiscus in it. Kembang Sepatu is actually a very soft vanilla-brown sugar ice cream that melted instantly to become a milkshake. I have no idea what came to Chef Bambang's minds when he created kembang sepatu. This is the first time I see a milkshake with jackfruit as topping. And suprisingly they work well.
Everything Comes with a Price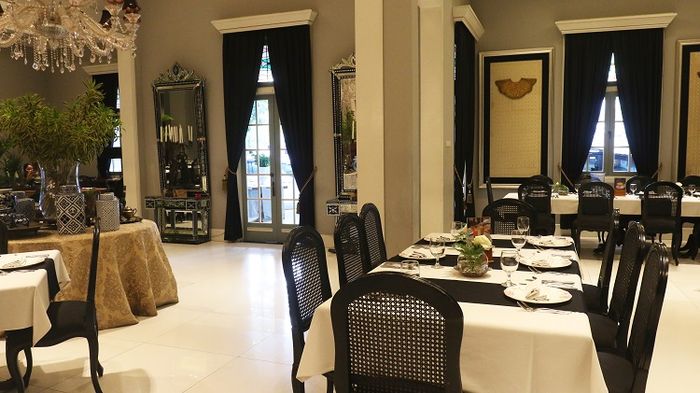 Bunga Rampai's first floor
Let me explain this.
Regardless the class of the restaurant, and no matter how beautifully-plated the food is, if it taste bad then it is not worthy to spend even a penny on. Ambience is important, but people come back for the food.
Is Bunga Rampai Restaurant pricey? Yes. Is it overpriced? Definitely no. It has a nerdy atention to details in design. The foods are superb and served in fulfilling portions.
By God, you'll need a friend to help finish your food.
Tags