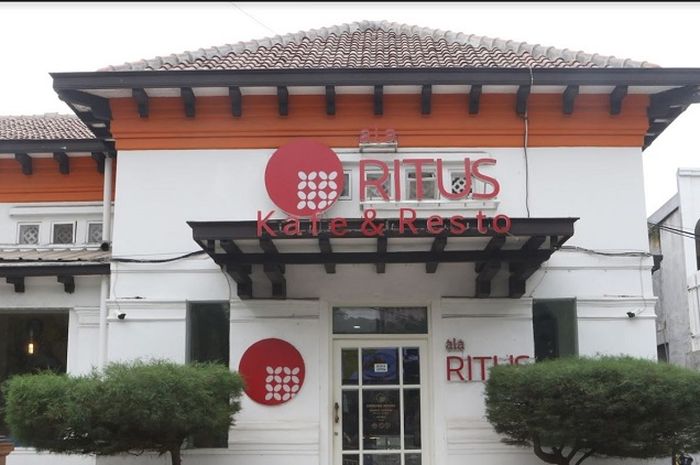 Front Facade of Ala Ritus Cafe&Resto
Kitchenesia.com - A rose by any other name?
I guess the restaurant's name had me partially confused at first.
The word "Ritus" in Bahasa Indonesia is often associated with cultic ceremonial hullabaloo.
But much to my surprise, Ala Ritus Kafe& Resto is pretty much a bright restaurant.
Although the white antique door and Dutch-like wide windows might say otherwise.
Ala Ritus is one of the tenants of Gedung Filateli, a cultural property of Jakarta Government built circa 1912.
It is nestled among vital properties in downtown, only 5 minutes walking distance from Juanda Station.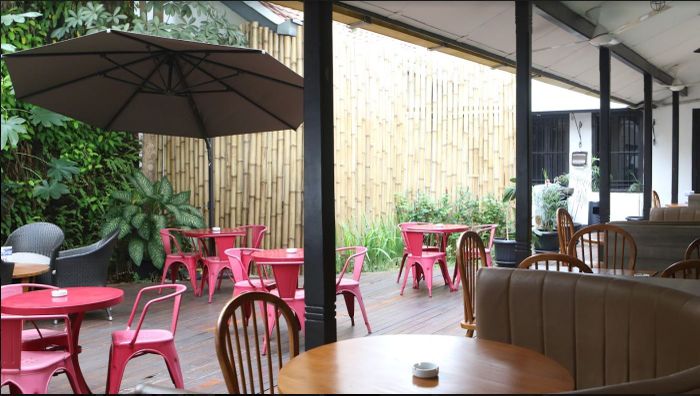 Ala Ritus' outdoor part
This newcomer restaurant peculiarly prefers complicated approach when it comes to design.
Its humble dutch-style exterior seems to be in contrast with the front section that presents more contemporer-pop style.
Ala Ritus divides its front section into two parts: cafe counter and main dining room.
Vibrant colors of chairs and rugs clash each other, expressing the spirit of pop artistry.
The artwork hanging on the prime part of the cafe becomes the center of attention due to its gigantic size and vibrant colors.
However, Ala Ritus' flashy fashion eventually calms down due to its neutrally painted walls that minimize the dramatic effect of the room.
Ala Ritus' extends its ambience to outdoor space with chic garden design elements complementing a bright green vine wall, wood floor, and pink metal chairs that give the feeling of a retro French street cafe.
A bit of this, a bit of that. Here and there: but with a much pleasant surprise.
Availabe for board meetings to casual gatherings, this restaurant has at least three meeting rooms with various capacity.
The setup details can be arranged according to request, but every room is equipped with 42-inch flat television, air conditioning, speakers, and sound-proof walls.
Ala Ritus - deriving from two words that its restaurateurs intended to say "customs" and "ritual" - serves the likes of wild-experimental Indonesia's traditional food that serves in, let's say, more westernized presentation.
Rarely do I ever reply to the waiter's question, "Do you need help with how the menu works?" with a "Of course I do", but at Ala Ritus they are keeping things interesting.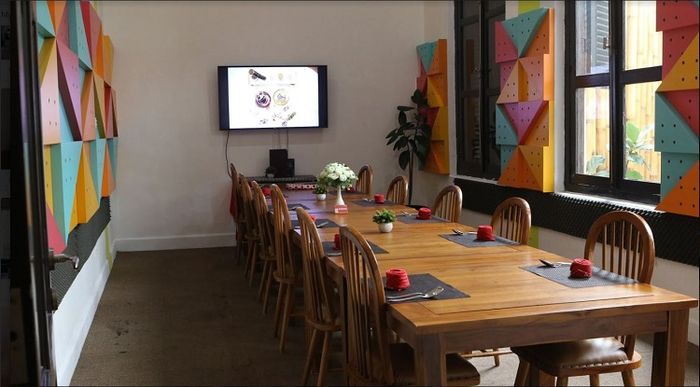 Ala Ritus' Meeting Room
But team Kitchenesia.com likes Ala Ritus very much.
The food options are plenty.
The new, young, bright-eyed waitresses are warm and attentive.
We did mention pop artsy ambience before but worry not, you wouldn't find eclectic playlists of obscure musicians.
They play rather soothing songs all day long; and there's a magical, colorful tunnel that makes your Instagram photos irresistable.
Still, I know few aspects that others might find Ala Ritus challenging – the rather-expensive prices and slightly-long waiting time.
But hey, everything in Ala Ritus is worth what its customers pay for it. Let me tell you why.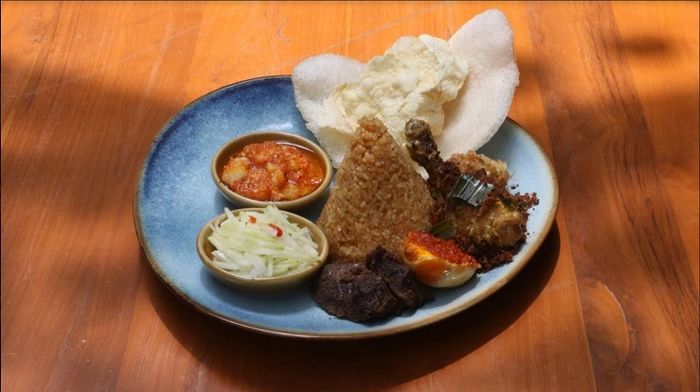 Nasi Campur Ala Ritus
Obviously, one of its signature dishes is its take on the Indonesia's traditional cuisines.
Here we have Palembang's nasi minyak (Oily/Ghee Rice) that utilizes assortment of side dish such as malbi meat, fried chicken, smashed potato, spicy sambal with pineapple, and melinjo crackers.
Nasi Campur Ala Ritus is like bittersweet slap with enjoyable assortment food in one plate.
Every scoop of it contains appropriate sweetness, savory, bitterness, and freshness that don't dominate each other.
It is a majestic looking dish in a shape of pyramid with brilliant color combination.
Served in huge portion, as an opening an opening course it could be a little too much altough when you're hungry, it is certainly not.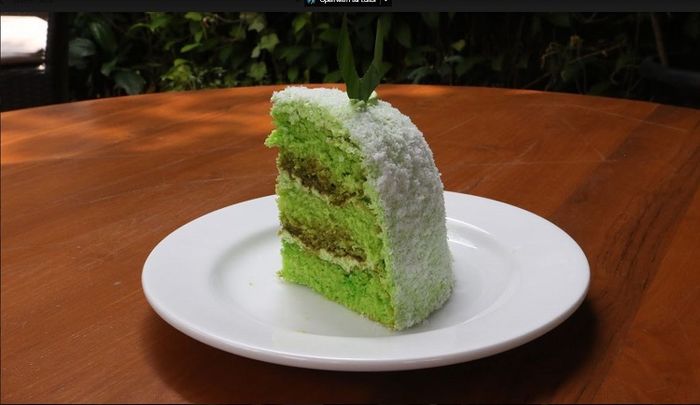 Klepon Cake Ala Ritus
Every dessert in Ala Ritus definitely makes my 2019's not-to-be-missed desserts (yes some pople make such list).
Oh, especially their wonderful rendition of traditional desserts.
Klepon cake is one of them, boasting an enduring appeal with tender texture and melt-in-the-mouth brown sugar fillings.
Faithful to the original klepon taste, it is a traditional sweet bites that meets modern-day swagger, and it even becomes more relevant with stuffed vanilla cream fillings.
Krim Bakar Serai (roasted cream with lemongrass) is the type of dessert that will be there in your life when all else fails.
Its seductively tender texture releases sweetness from cream and sourness from golden berries slices.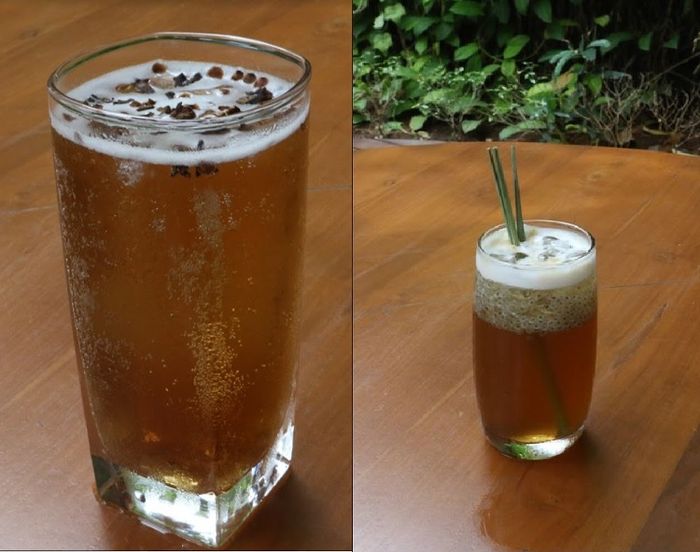 Ala Ritus: Papatong Koneng (left) and Kecutan Manis (right)
A lot things are going on in Ala Ritus' beverage area, but they have similarities that never fail to miss.
Ala Ritus' beverages game is all about homemade, local drinks inspired by local tradition.
There is Kecutan Manis, signature punch that features sophisticated flavors buit by the sourness of tamarind, the sweetness of brown sugar, and the freshness of chia seeds.
Another local favourite is Papatong Koneng, Ala Ritus' original recipe made of cloves, lemongrass, nutmeg, and little bit of soda.
Meaning yellow dragonfly in Sundanese, Papatong Koneng is a sipping-friendly drink with total freshness and moderate sweetness.
Ala Ritus just reached its first anniversary in May this year, but it has accomplished such innovations worth your surprising dining time.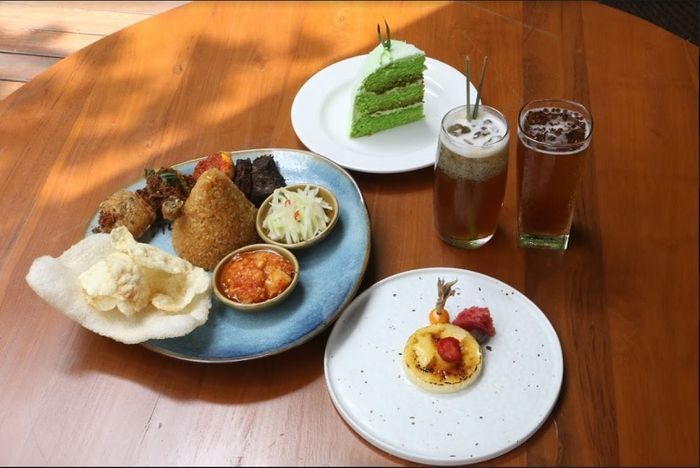 Ala Ritus
Ala Ritus: Jalan Pos No.1-2, Sawah Besar, Jakarta Pusat 10710