Famous since medieval era, this soft cake is known as Baumkhucen and Spekkoek in Germany and Netherland respectively.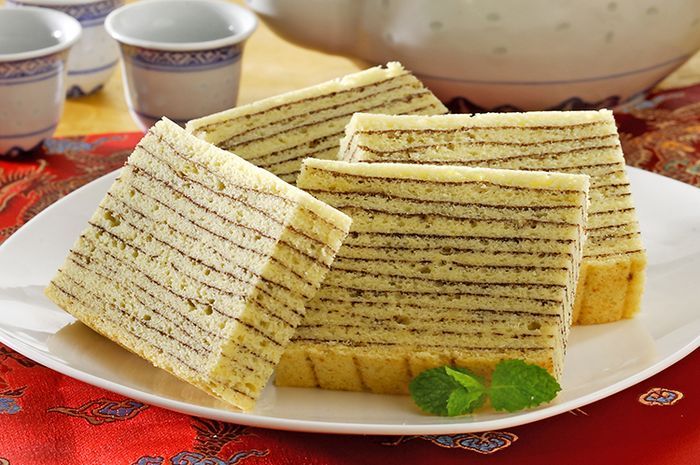 Thousand-layer cake recipe
Kitchenesia.com - Thousand-layer cake has a very long history that can be traced back to medieval years. While the originality remains controversial, a recipe of cake that looks similar to thousand-layer cake is found in Greek's ancient text. History - and philosophy - aside, you can have yourself the softness of thousand-years cake right at your home. All you need is cooking utensils, ingredients, and this recipe.
Ingredients
200 grams butter
2 ½ tablespoons condensed milk
40 grams skim milk
8 eggs yolks
200 grams white sugar
1 tablespoon food emulsifier
200 grams superfine flour
1/2 teaspoon baking powder
1/2 teaspoon vanilla essence
Sprinkles
1/2 tablespoon cocoa powder
1 tablespoon spekkoek powder
Cooking Steps
1. In a bowl A, mix butter and condensed milk till smooth. Set aside.
2. In bowl B, whisk yolks, white sugar, and emulsifier until thick.
3. Pur slowly the egg yolk batter (bowl A) to butter batter (bowl B), mix until well combined
4. For the starter, put a small amount of batter (about 75 grams) and spread evenly on the 20x20x7 cake pan with parchment paper. Spread the sprinkles ingredients.
5. Grill for 5 minutes in a medium heat until it looks brown.
6. Remove from oven and scoop the same amount of batter for the second layer. Repeat the same process until the batter is all used up
7. For the last layer, grill for 10 minutes until it looks golden
PROMOTED CONTENT
Tags