Not only taste heavenly, soto ayam is also a nutrition powerhouse rich in protein, calcium, and vitamins.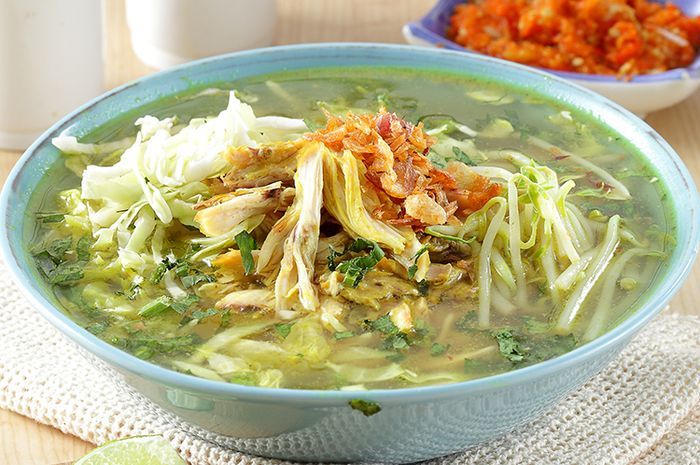 Soto ayam for the soul
Kitchenesia.com - In Indonesia, Soto is omnipresent. From to West to East, almost every region in Indonesia has its own version of soto. However, among hundreds of variations, soto ayam is surely the most popular one.
Ingredients
1/2 Free-range chicken, quartered
2 L Water
1 Piece Bayleaf
5 Pieces kaffir lime leaves
1 inch galangal, crushed
1 inch ginger, crushed
1 tablespoon table salt
1 teaspoon sugar
2 tablespoons cooking oil
Ground Spices
1 inch of turmeric, roasted
8 pieces shallot, peeled
2 cloves garlic, peeled
Sambal Ingredients
15 pieces bird's eye chillies
3 cloves garlic
1/2 teaspoon of tablesalt
Complementary
150 grams cabbage, sliced
100 grams bean sprout, boiled and dried
2 tablespoons celery leaves, chopped
3 pieces lime
25 grams fried shallot
Cooking Steps
1. Place chicken in a medium pot with bayleaf, kaffir lime leaves, galangal, ginger, sugar, and salt and 2 litres of water. Boil over high heat. Cover and simmer until chicken is tender. Remove chicken pieces from broth and set aside. When chicken is cool enough to handle, peel skin and bones and shred meat into bite-size pieces.
2. Put ground spices and cooking oil to medium heat pan, saute until fragrant. Put into broth and boil for 5 minutes.
3. To make sambal, boil chillies and garlic until tender. Add salt while hand-grinding.
4. Serve soto broth and chicken separately with sambal, and complementary
Tags
PROMOTED CONTENT
Tags