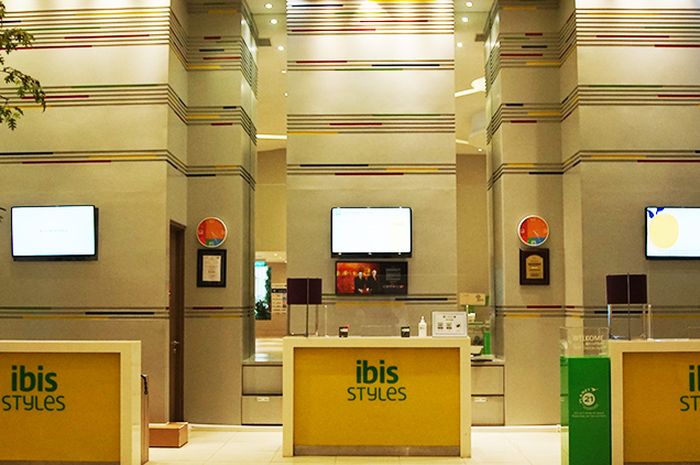 The three-star ibis Styles Mangga Dua Square boosts pop art design.
The Best Privilege Is the Free Access to Other Hotel Facilities
The same contemporary design extends to the room. ibis Styles Mangga Dua Square's room range from standard to business. The significant difference is the latter room is more spacious and equipped with a sofa bed. Everything was similar overall: a good queen-sized bed, a vibrant design, and a spacious en suite with generous toiletries. Every room is sealed with a sanitized label to ensure hygiene.
Through the window, I had a view of an artificial, plastic-made garden. I understood that the sole function of it was to give a view, but it was not what I got. Thank God, the hotel redeemed itself by granting free access to the four-star Novotel Mangga Dua Square. Thus, ibis's guests can enjoy the Novotel's facilities such as pools, restaurants, gym, etc. A pretty fair trade, I should say.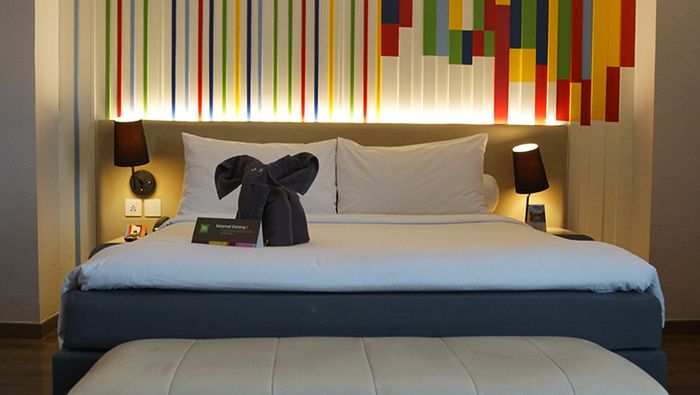 ibis Styles Mangga Dua Square's business room can contain up to three persons.
Baca Juga: Where To Stay in Jakarta: Hotel Santika Premiere Hayam Wuruk, If One In The Need Of Spiritual Getaway
As a budget hotel, ibis Styles Mangga Dua Square brought a rare level of seriousness to protect the guests with its stringent safety measure. The pandemic has changed people's behavior in vacationing. Enjoying a holiday is not always about visiting new places. Self-isolating in a hotel room is the new kind of vacationing people should try.
ibis Styles Mangga Dua Square, Jalan Gunung Sahari No.1, Ancol, North Jakarta 14420.
Full video: