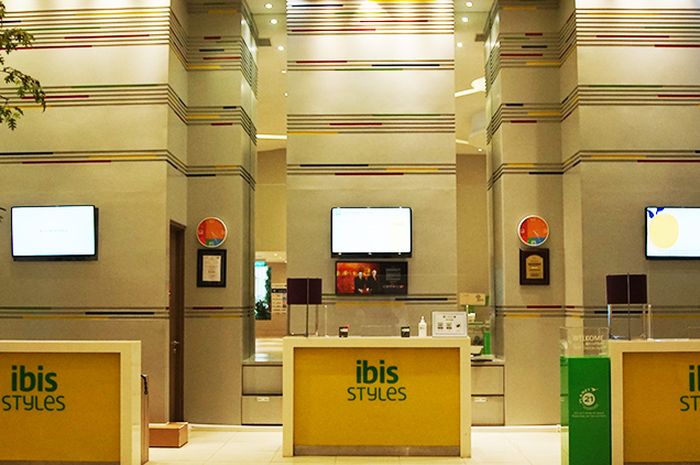 The three-star ibis Styles Mangga Dua Square boosts pop art design.
Kitchenesia.com - Pandemic shows no sign of slowing, but the hotel industry certainly does. According to data from the Indonesian Hotel and Restaurant Association (PHRI), the pandemic has wiped out more than US$ 4.8 billion in revenue this year. More than 1500 hotels completely went out of business, affecting 150 thousand workers nationwide.

Those who survive need to mull over the two options available: implementing a stringent protection measure or following their former competitors to close down for good.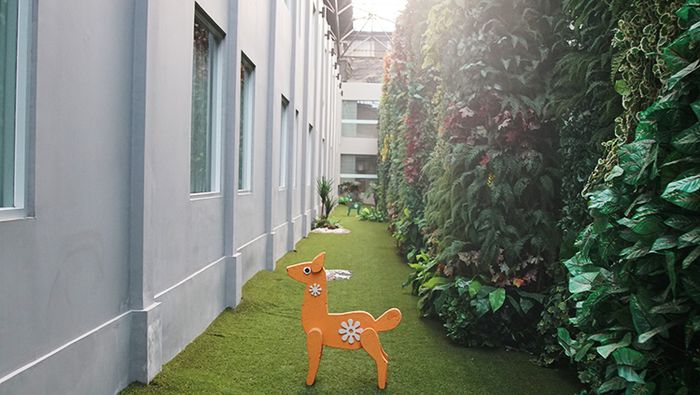 ibis Styles Mangga Dua Square's artificial garden that will be talked more later on in this article.
Baca Juga: Mercure Hotel Jakarta Kota, Lives Up To Be Stylish In A Modest Yet Luxurious Way
Besides low prices, hotel's coronavirus precautions become a strong guest's attractor now. We have seen some hotel innovations that no one ever saw coming: contactless check-in, keyless entry, and this list keeps growing. At the same time, it doesn't come as a total surprise. People will prioritize their safety first over a good stay experience.
As the PSBB discontinued and hotels began to operate, I decided to venture out and saw how hotels were handling the pandemic situation, and how it affected my stay experience in general.
Budget Hotel With Modern Pop Art Style
Since this staycation used my spare dime, a hotel budget like ibis Styles Mangga Dua Square immediately sprung to mind. The short distance from home was my sole reason to choose this hotel. I couldn't foresee any possible chances to have a staycation in the future. Thus, I prayed hard for it wouldn't disappoint me.
Here is a little tip to avoid a joyless stay: hotel entrance represents what the hotel stands for. And the concept of ibis Styles Mangga Dua Square delivered: a budget hotel. Those colorful decals on glass door convey that this hotel wouldn't serve you a luxury. If you are up for it, go ahead. If you don't, well, there are three more hotels within the Mangga Dua Square complex.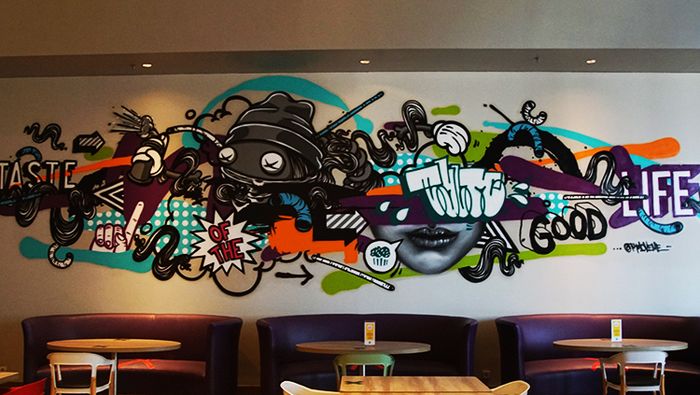 iBis Styles Mangga Dua Square is adorned with pop-art-themed murals and artworks.
Baca Juga: Mercure Hotel Cikini Central Jakarta, A Chic and Lively Hotel Beautifully Done
The lobby, which was on the fifth floor, felt spacious due to the high ceiling and lack of chairs. My check-in process was unusually short and easy, so the chair problem didn't ruin my mood. This hotel still retained the conventional, direct check-in service. But with the ubiquitous hand-sanitizing stations and the obligation to wear masks, they were convincing enough to make me feel secured.
The highlight of ibis Styles lies in the design. Flo, the PR staff, said that most murals in ibis Styles chain depict the local's culture and nature. I think these murals in this hotel were the minority. Still, the fact that ibis Styles Mangga Dua Square involved local artists impressed me more than the mural itself.
The Best Privilege Is the Free Access to Other Hotel Facilities
The same contemporary design extends to the room. ibis Styles Mangga Dua Square's room range from standard to business. The significant difference is the latter room is more spacious and equipped with a sofa bed. Everything was similar overall: a good queen-sized bed, a vibrant design, and a spacious en suite with generous toiletries. Every room is sealed with a sanitized label to ensure hygiene.
Through the window, I had a view of an artificial, plastic-made garden. I understood that the sole function of it was to give a view, but it was not what I got. Thank God, the hotel redeemed itself by granting free access to the four-star Novotel Mangga Dua Square. Thus, ibis's guests can enjoy the Novotel's facilities such as pools, restaurants, gym, etc. A pretty fair trade, I should say.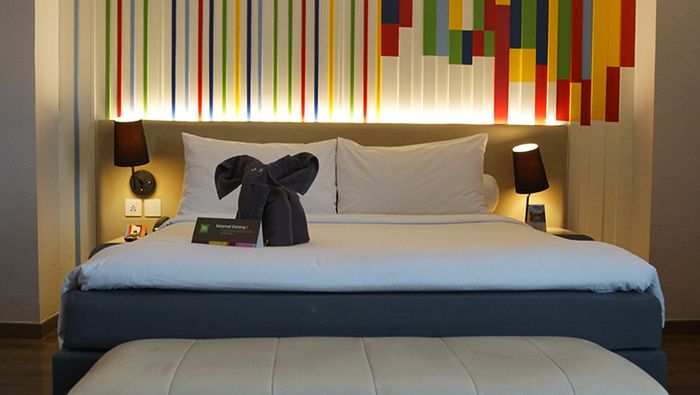 ibis Styles Mangga Dua Square's business room can contain up to three persons.
Baca Juga: Where To Stay in Jakarta: Hotel Santika Premiere Hayam Wuruk, If One In The Need Of Spiritual Getaway
As a budget hotel, ibis Styles Mangga Dua Square brought a rare level of seriousness to protect the guests with its stringent safety measure. The pandemic has changed people's behavior in vacationing. Enjoying a holiday is not always about visiting new places. Self-isolating in a hotel room is the new kind of vacationing people should try.
ibis Styles Mangga Dua Square, Jalan Gunung Sahari No.1, Ancol, North Jakarta 14420.
Full video: