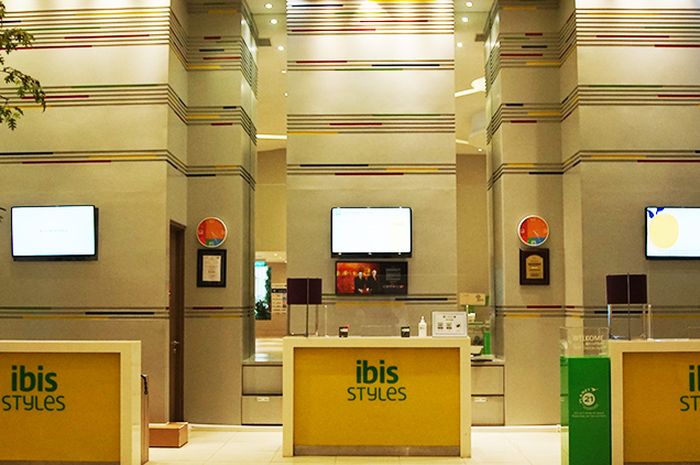 The three-star ibis Styles Mangga Dua Square boosts pop art design.
Budget Hotel With Modern Pop Art Style
Since this staycation used my spare dime, a hotel budget like ibis Styles Mangga Dua Square immediately sprung to mind. The short distance from home was my sole reason to choose this hotel. I couldn't foresee any possible chances to have a staycation in the future. Thus, I prayed hard for it wouldn't disappoint me.
Here is a little tip to avoid a joyless stay: hotel entrance represents what the hotel stands for. And the concept of ibis Styles Mangga Dua Square delivered: a budget hotel. Those colorful decals on glass door convey that this hotel wouldn't serve you a luxury. If you are up for it, go ahead. If you don't, well, there are three more hotels within the Mangga Dua Square complex.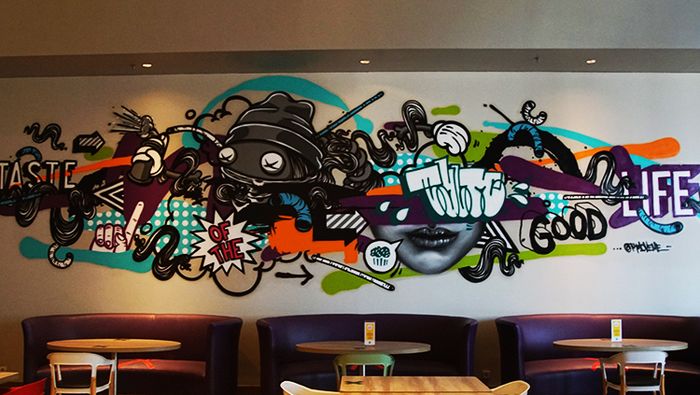 iBis Styles Mangga Dua Square is adorned with pop-art-themed murals and artworks.
Baca Juga: Mercure Hotel Cikini Central Jakarta, A Chic and Lively Hotel Beautifully Done
The lobby, which was on the fifth floor, felt spacious due to the high ceiling and lack of chairs. My check-in process was unusually short and easy, so the chair problem didn't ruin my mood. This hotel still retained the conventional, direct check-in service. But with the ubiquitous hand-sanitizing stations and the obligation to wear masks, they were convincing enough to make me feel secured.
The highlight of ibis Styles lies in the design. Flo, the PR staff, said that most murals in ibis Styles chain depict the local's culture and nature. I think these murals in this hotel were the minority. Still, the fact that ibis Styles Mangga Dua Square involved local artists impressed me more than the mural itself.