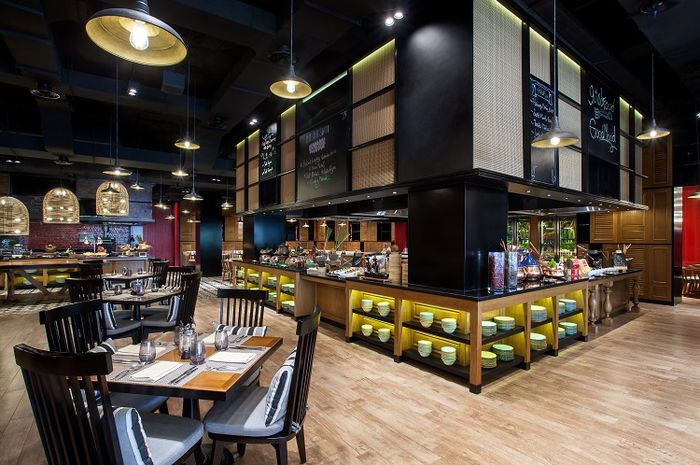 Damar Restaurant of Pullman Ciawi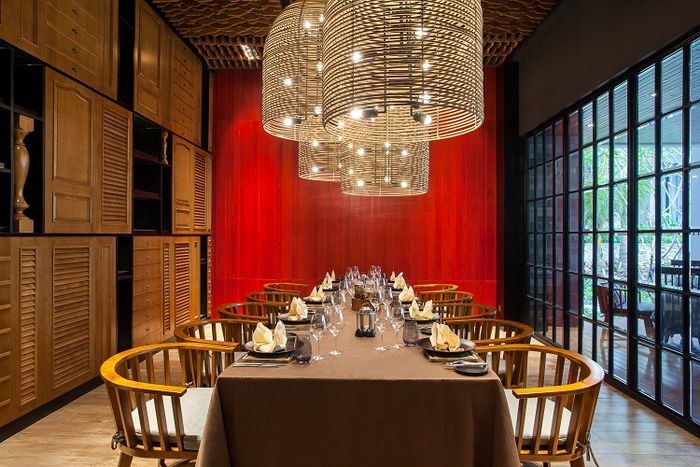 Damar Restaurant's private dining room. Pullman Hotel Ciawi
Damar Restaurant is a vibrant all-day dining where guests are invited to stay as long as they like.
The dining room is designed with the diners' comfort in mind – satisfying both hunger and visual appetites.
The walls are coated with colors of red & black and its interior is designed with natural wooden elements and patterned ceramic floor tiles, adapted from classic Indonesian houses.
Ergonomic chairs with soft cushions surround large wooden tables, looking traditionally elegant.
On top of them, one-of-a-kind cutleries – a redesigned, modern-take on zinc plates & glass that are mostly used by stalls on the streets of Java in the past – are set and ready to use.
Beautifully hanging above the tables are unique light fixtures with shape following traditional rattan cages that traditional people use to keep livestock.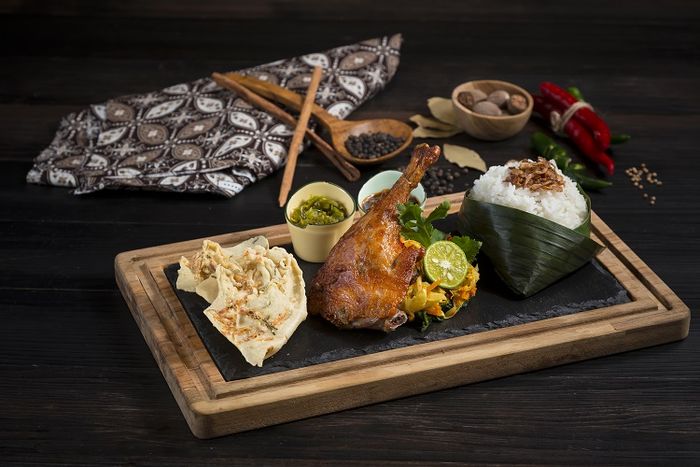 Bebek Goreng Virmala Hiils of Pullman Ciawi
The breakfast? A bountiful breakfast buffet greets guests every morning.
Another buffet is served at lunchtime, and yet another at dinnertime.
Extensive brunch selections are also offered on the weekends.
A la carte dishes are always available, from authentic Indonesian delicacies to tasty international favorites.
The besat part is that Pulman Ciawi's cuisine are made from high quality locally-grown ingredients.
The Chef's signature dish, Bebek Goreng Vimala Hills (Fried Duck a la Vimala Hills), is a must try at the Damar Restaurant's.
The duck is traditionally seasoned and fried to create a mouth-watering taste in a crispy texture finish.
Served with steamed rice, vegetables crudities, fried tofu or bean cake and chili sauce, it is truly a treat of a meal.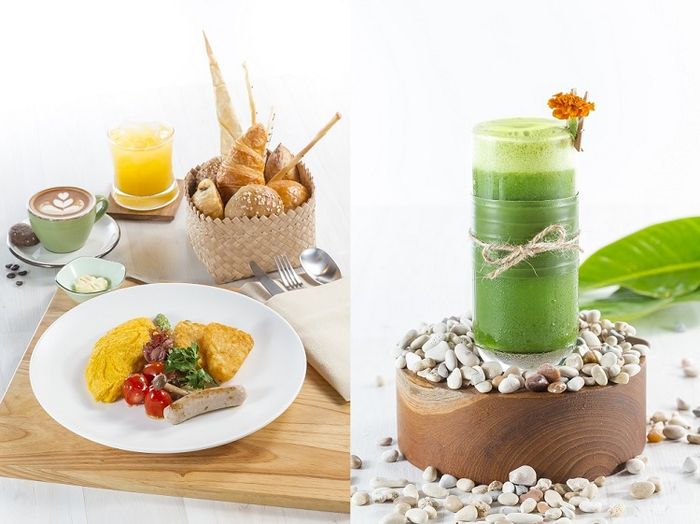 Continental Breakfast (left) and The Green (right), signature menu of Pullman Ciawi
Whether in the morning, afternoon or evening, Damar Restaurant welcomes guests who want to dine with families, casual hang out with friends and meeting with colleagues.