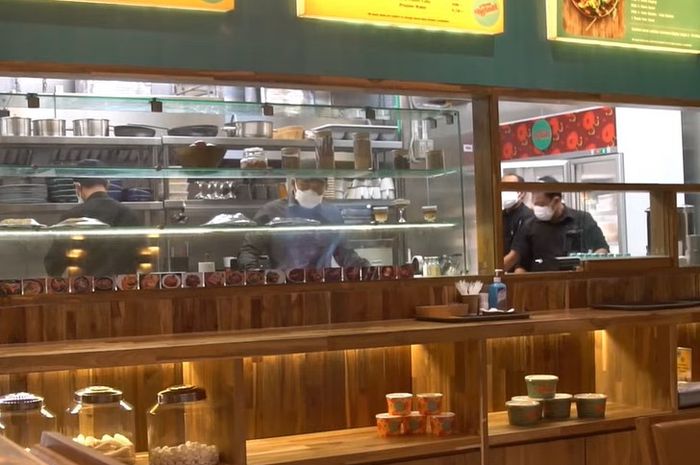 Indonesian restaurant Biang Keladi is located at the Pacific Place.
Kitchenesia.com - If you're going to socialize around meal, while keeping hunger pangs at a bay you might want to consider this humble restaurant.
It might be only footsteps away from your office.
Biang Keladi is an easy spot on.
The 'Modern Warteg' is located in the Kem Chicks supermarket, on the LG level of Pacific Place Mall, Jakarta.
Not only that, its striking design really catches any passer-by.
It highlights buffet counter where guests can choose foods, just like the old-school warteg.
The green and red pallet become the design point of interest.
Comfortable ambience is also created in the lighting, making this humble restaurant highly instagrammable.
Taking its warteg concept seriously, Biang Keladi provides two versions of its signature mixed-rice menu: Nasi Dalang Kenyang.
Each type consists of four side dishes: a cup veggie dish, a spicy tofu or egg, one skewer of satay, and one main course.
You can choose any beef main courses on the B type.
Baca Juga: Indonesian Restaurant Review: Made's Warung, The Legendary Balinese Restaurant Is Now In Jakarta
Tags