Grilled meat is a kind of dish that can be found in almost every country in the world. One of the countries where you can find a tasty and unique...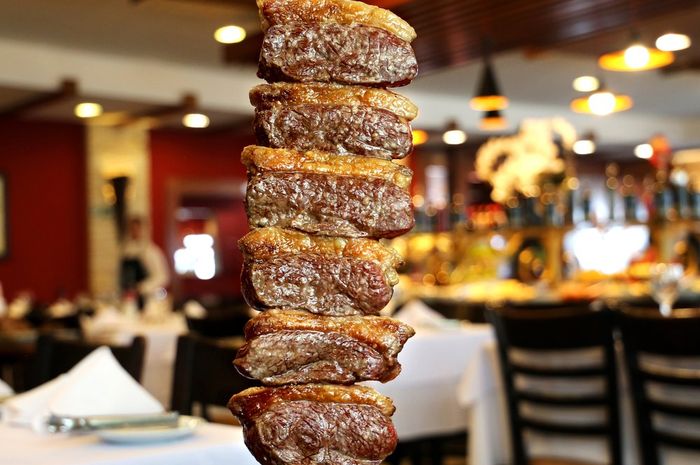 Churrasco is a special dish that is loved by all Brazilians.




Cooking Steps

lass="heading"> Ingredients


/p>

Kitchenesia.com - Grilled meat is a kind of dish that can be found in almost every country in the world. One of the countries where you can find a tasty and unique technique of meat grilling is Brazil, a beautiful country with a total population of 212,2 million people and exotic food culture.

In Brazil, grilled meat is called by the local name churrasco. To make churrasco, a certain grilling method is involved. Churrasco can be made using various meat cuts. However, the most common cut that is used is sirloin.

Large chunks of fresh meat, either beef, lamb, mutton, or chicken, are skewered into a long iron rod and grilled inside a fire pit. Then, rock salt is sprinkled to add taste.

Churrasco is a special dish that is loved by all Brazilians. Therefore, to ensure that churrasco can be enjoyed anytime, almost every home in Brazil has a special fire pit to grill churrasco.

The good news is, meat lovers who want to taste the beauty of churrasco could find a lot of churrascarias—Brazilian steakhouse—all over Jakarta. One of the premium and authentic churrascarias is Tucano's Churrascaria Brasileira.

This restaurant serves a variety of unique Brazilian-style grilled meats with an all-you-can-eat concept. You can choose between 60 or 90 minutes packages.

There are several cuts of meat served, including picanha (top sirloin), alcatra (sirloin), and fraldinha (outside skirt). Apart from beef, you can also enjoy carnero or mutton, as well as chicken.

Meat lovers could enjoy churrasco in an authentic way. In this restaurant, churrasco is served by the churrascaria, the chef who grills the meat. The churrascaria will come over to each dining table with selections of grilled meat on the iron skewer.

Customers can choose the desired meat. Then, the churrascaria will slice the meat from the iron skewer to be served directly on the customer's plate. Apart from beef, you can also enjoy carnero or mutton and chicken.

The restaurant, which was founded in 2017, has three outlets spread across the city of Jakarta, the first being Tucano's Sudirman. The Apartment Pavilion, which is located on Jalan KH Mas Mansyur No. 24, Central Jakarta, is the location for the first Tucano's Churrascaria Brasileira outlet in Indonesia.

Second, Tucano's Senayan City. The largest shopping center in Jakarta was chosen because it has a strategic location. In addition, Senayan City, which carries the concept of Mix Use Development, has many functions, such as residences, office towers and apartments.

Lastly, Tucano's Simatupang which is located in the lobby of the Mercure Simatupang hotel. For those of you who live in South Jakarta, the location is quite strategic for you to visit.

You can also enjoy this unique and authentic dining experience at The Great Steak Escape, an event organized by True Aussie Beef and Lamb, a brand initiated by Meat and Live Stock Australia (MLA), at Gelora Bung Karno, Jakarta from March 1 to 31, 2022.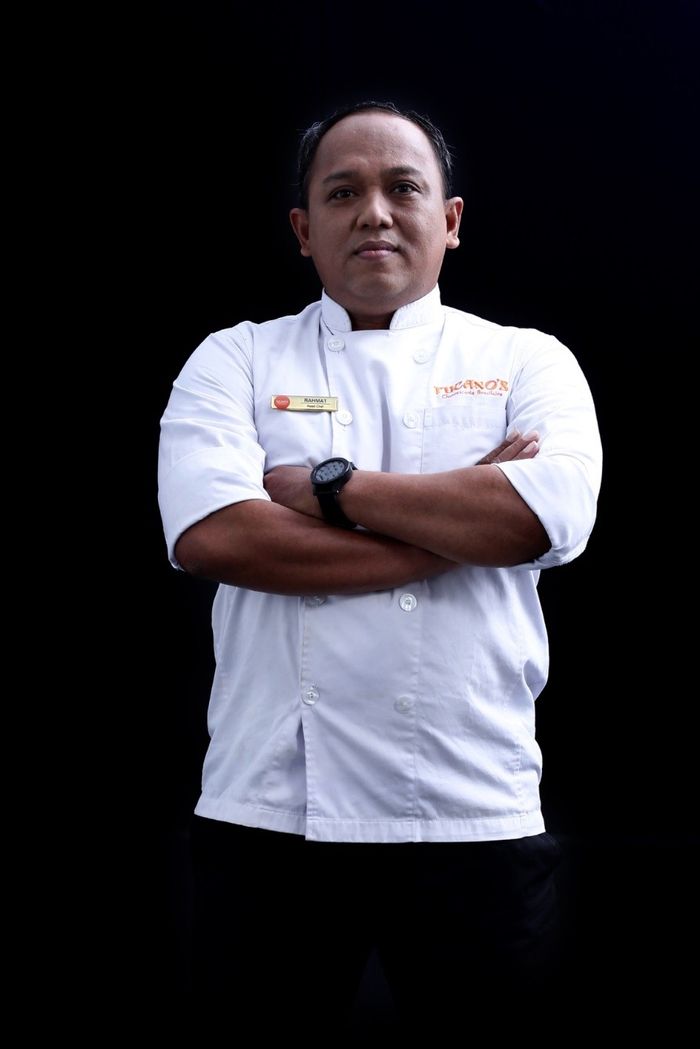 Chef Rahmat
Tucano's Churrascaria Brasileira is one of the restaurants participating in that event. At The Great Steak Escape 2022, Tucano's Churrascaria Brasileira will serve their special menu, Australian Picanha.
Chef Rahmat from Tucano's Churrascaria Brasileira uses Australian beef #TrueAussieBeef which is known for its tenderness, juiciness, and flavorful taste.
Lihat postingan ini di Instagram
For your information, The Great Steak Escape is held to promote the taste, quality, and nutrition of Australian beef and lamb. This program has been running since 2021 and has successfully gained interest from culinary enthusiasts in Indonesia.
Apart from Tucano's Churrascaria Brasileira, there are 23 other steak restaurants taking part in this event.
Visitors can try various beef dishes from all of the restaurants, like Wagyu Paella, Wagyu Rump with Truffle Vinaigrette and Garlic Chips, and Chuck Eye Roll Yakiniku.
Visitors can also enjoy Indonesian specialties, such as tongseng and curry. All of the menus will be created using Australian beef and lamb as the main ingredients.
MLA Indonesia Business Development Manager Christian Haryanto said that Australian beef lovers can also taste a variety of unique meat cuts, ranging from chuck, rump cap, blade (hump), sirloin, and tenderloin.
"We want to invite meat lovers to try different cuts of Australian beef, apart from the ones that are already popular, such as sirloin and tenderloin. I think there are more delicious cuts of meat that are still less popular in Indonesia," said Christian, Friday (11/3/2022).
Introducing the taste of Australian beef and lamb, said Christian, is not the only reason for MLA to hold The Great Steak Escape. He said that this event is also a form of support for food service providers in Indonesia to get back up after being hit by the Covid-19 pandemic during the last two years.
Considering pandemic is not over yet, he also ensures that health protocols are obeyed during the event.
"We understand that consumers are still careful when choosing to eat out. Therefore, we want to provide a different meat-eating experience in a safe way. We ensure that everything is in accordance with health protocols applied," explained Christian.
Other restaurants participating in The Great Steak Escape 2022 include Steak Hotel by Holycow!, Cutt & Grill, Tucano's Brazilian BBQ, Bistrogram, Portable Kitchen & Lounge, Tamarind & Lime, Amuz Gourmet, Aprez, Bistogram, Caspar, and Four Seasons Hotel.
There are also Kenjiro, La Brasserie Restaurant Le Meridien, Meatsmith, NARA, The Brotherhood, SKYE Bar & Restaurant, and William's-Casual Dining who participated in The Great Steak Escape 2022.
While enjoying the meal, visitors can get information about tourism and Australian cuisine. This information can be useful for visitors who want to travel to Australia.
To get more information about The Great Steak Escape, you can visit the event's official website by clicking the following link.
Meanwhile, for those of you who want to update various kinds of programs from True Aussie Beef Indonesia, you can follow MLA social media, such as Instagram @trueaussieid, Facebook @TrueAussieID, YouTube True Aussie Indonesia Official, dan situs https://www.trueaussiebeefandlamb.id/.
Tags