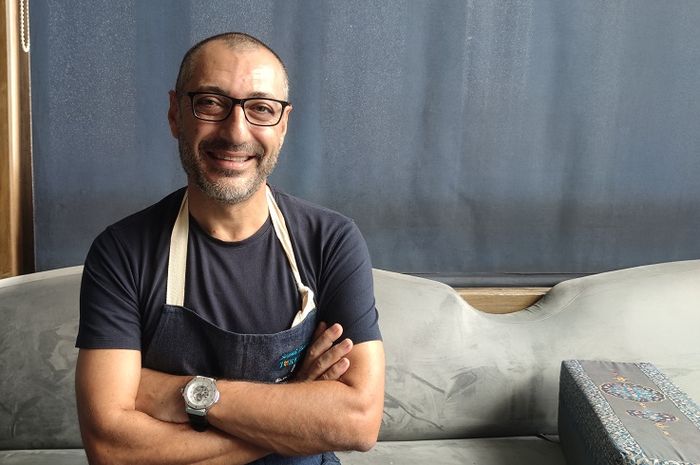 Chef Sezai Zorlu provides an'Eat Like a Sultan' experience in his restaurants, hence quality is his priority.
Kitchenesia sat with Ottoman-cuisine Chef Sezai Zorlu to discuss about his restaurants and his opinion on the 2022's food trend.
Kitchenesia.com - You may be familiar with Sezai Zorlu as the restaurateur of Turkuaz and Warung Turki; both restaurants drew rave reviews from Jakarta's foodies. His restaurants also earned him a slew of accolades, including Adikarya Wisata 2019 for best Middle-Eastern Restaurant.
Or, if you are a fan of cooking shows, you may know him from his several television appearances, most notably as a gritty, in-your-face contestant on Iron Chef Indonesia 2017. Zorlu's authentic, back-to-basics cooking approach drew the judges' praises, and made him the prominent chef he is today.
"Fusion is confusion," said Sezai Zorlu on Iron Chef Indonesia 2017, episode five (05/6/2017).
Celebrating his Turkish roots, The Jakarta-based chef makes it a point to put authenticity at the forefront of his restaurants. Walking either into Turkuaz or Warung Turki is a bit like entering the miniature of Turkey – and that is exactly what the chef aims for.
Both restaurants also explore less-known Turkish foods that casual enjoyers may find unfamiliar, such as tahini patlıcan or adana çorbası. Much of the menus are inspired by Chef Sezai Zorlu's roots and expertise – his value in bringing the authenticity of Turkish cuisines and cultures – along with his specialty as an Ottoman-cuisine chef.
"You cannot find sambal (Indonesian chili relish) in my restaurants," said Chef Sezai Zorlu at L'Ambassador Event at Warung Turki, South Jakarta (12/15/2021), organized by MLA (Meat & Livestock Australia) Indonesia.
During an exclusive interview with Kitchenesia, Sezai Zorlu reflected on his career as a chef and restaurateur, his guilty-pleasure food, and his hot take on the food trend in 2022.
Read also: Chef Sezai Zorlu Shows off Simple-Yet-Delicious Ottoman Food Cooking Demo, Using Australian Lamb Meat for 'Lambassador' Event
Why do you choose Australian lamb for your restaurants?
Australian lamb is free-range and predominantly lives in pastureland. Most importantly, they are also grass-fed. These factors allow the lamb to be healthy, lean, and rich in iron and vitamins. Grain-fed lamb is indeed different in quality. Grain is not lamb's natural food, thus definitely affecting the meat's quality.
As an Ottoman-cuisine chef, my aim is to provide Sultan-like eating experiences to my guests. Consequently, quality is a must. Australian lamb is pricier by 10-15 percent. But for such quality, the prices are worth it.
Tags