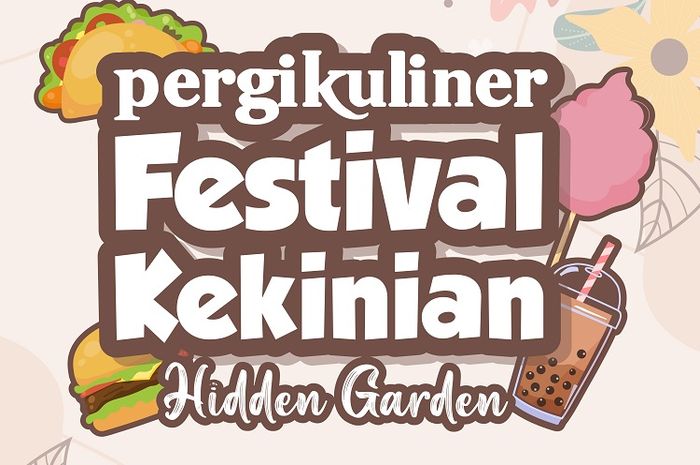 With 'Hidden Garden' as the event theme, PergiKuliner Festival Kekinian at Lippo Mall Kemang aims to unforgettable eating experience for visitors.
Kitchenesia.com - If you are a foodie – and not having enough dosh to posh nosh – here is good news for you.
Restaurant aggregator app PergiKuliner is hosting another epic food bazaar, PergiKuliner in Festival at Lippo Mall Kemang, South Jakarta.
This event runs for 10 days, from March 25 to April 3, 2022, featuring more than 30 F&B booths. They are rated more than 3.5 out of 5 stars by the PergiKuliner app users, thus taste and quality are proven.
Foodies can enjoy 1001 F&Bs, some of them even went viral on TikTok for being unique and tasty.
Among most favourited foods from last year's event, which make a comeback in the upcoming event are unique croffle by Kuroffle, satisfying dim sum of DimSum Benhill, and sweet sugar-apple sandwich by Roti Srikaya Aliong.
The abundance food choices can be overwhelming. Fret not, each booth provides free tester. Simply scan the QR code on PergiKuliner app and enjoy food testers for free.
Read Also: Calling for Food Lovers in Tangerang: Pergikuliner Festival Kekinian Is Back! Enjoy HUNDREDS of Tiktok Viral Foods at Supermal Karawaci
More foods, less money: here's how to get 20 per cent off
Only in PergiKuliner Festival Kekinian at Lippo Mall Kemang where you can eat more for less. Get 20 per cent off (max. Rp 20,000) with minimum spending Rp. 100,000, eligible for transaction using BRImo app and BRI debit card.
PergiKuliner also impose strict health protocols to visitors and workers.
"Ministry of Tourism and Creative Economy has allowed offline event since October 2021. PergiKuliner prioritizes safety for visitors and workers by complying to health protocols," said CEO of PergiKuliner.
In 2021, PergiKuliner hosted four Festival Kekinian events in Jabodetabek's biggest malls.

Tags