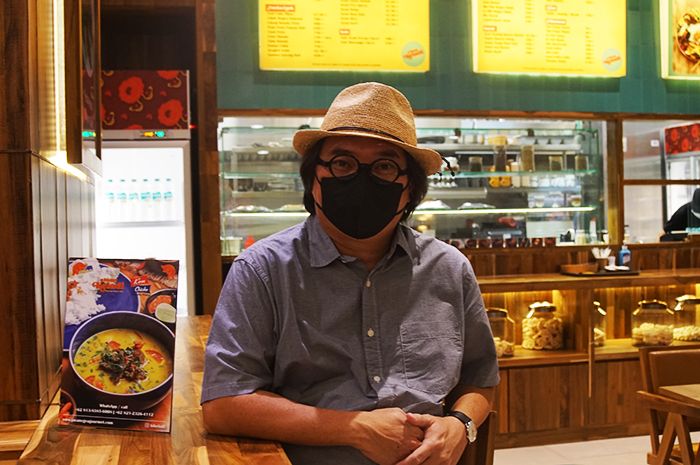 From an architect to a chef-restaurateur, Chef Andrea Peresthu talked about his career change.
Kitchenesia sat down with chef-cum-restaurateur Andrea Peresthu, talking about his obsession in cooking and inspiration behind Biang Keladi.
Kitchenesia.com - When Andrea Peresthu came to Jakarta after 15-year residency in Europe, he had already planned to venture out into restaurant business. Sure, he wasn't of culinary background to begin with. He served as a Regional Planner at TU Delft, The Netherlands, for 12 years.
Still, kitchen had been a part of Andrea's life. The 50-year-old then-academician often invited his friends over for casual dinner. At one point, Andrea's honed cooking skills and hospitable manner left a strong impression on his friends.
Read also: Simple Yet Delicious: Chef Vindex Tengker Spills How To Enjoy a Perfect Steak Like a Boss
"My friend said 'man, you can't do it for free forever. You should open a restaurant', and I thought that was a good idea," said Andrea Peresthu, in an exclusive interview with Kitchenesia.com.
Although Andrea was a newcomer in the industry, he rapidly built momentum and garnered a reputation of his own. He founded Javanegra Gourmet Atelier in 2012, a Spanish-Mediterranean fine-dining restaurant with homely setting.
Stepping Outside the Comfort Zone
As Javanegra GA succeeded, Andrea Peresthu decided to turn his lifelong interest in cooking into a career. With his business partner, Reni Alhadad, the standalone Javanegra GA turned into a business empire. In less than nine years, Andrea Peresthu has opened seven restaurants under Javanegra Gourmet, spread across Jakarta and Bali.
"We had ten restaurants under Javanegra Gourmet. After the pandemic hit, we closed three," said the architect-turned-restaurateur.
Read also: Executive Chef Salihin of Novotel Tangerang Shared the Untold Truth of Working in the Kitchen
While his restaurants offer distinct concepts and cuisines, they have one thing in common. Javanegra Gourmet's restaurants target cash-loaded patrons.
Surely, the 50-year-old restaurateur refused to be pigeonholed. In October 2021, Andrea Peresthu opened a new restaurant called Biang Keladi. Unlike its upscale relatives, Biang Keladi offers a humble concept.
Tags