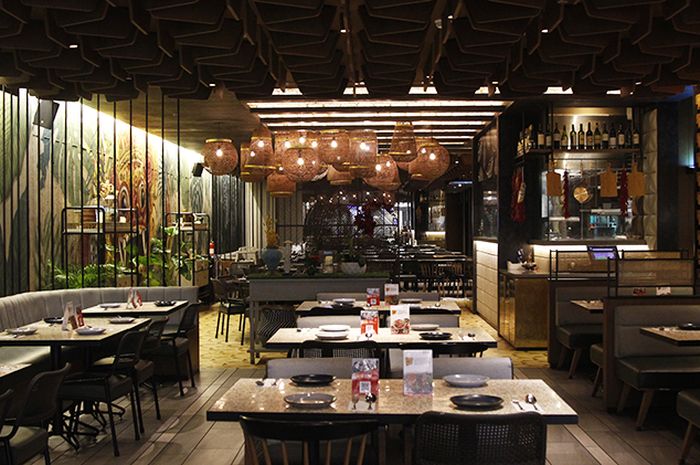 No blank space allowed: Putu Made pays tribute for Bali's nature and culture in its design.
Putu Made, a posh Balinese restaurant that doesn't pressure its customers.
Kitchenesia.com - Let's assume that there are thousands of restaurants in Jakarta. Balinese restaurants most likely only cover one-hundredth of the overall numbers. It is quite hard to find Balinese restaurants in Jakarta. If you found one, the chance it would be a lavish, downtown-located restaurant is more likely.

Putu Made seems to tick all the criteria above. It is very findable, as a matter of fact. To know you've reached the right place, simply look out for the waitress lady loitering by the entrance, greeting almost everyone who passes by.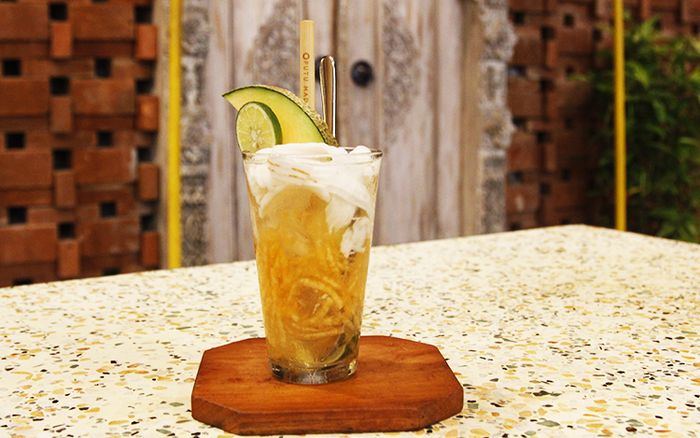 After a series of fatty, satisfying food, coconut melon punch is the best to calm throat.
In all seriousness, Putu Made is very findable for its standing-out design. The designer seemed to hate minimalism a lot. Every inch is filled with artworks and ornaments with complex detail — no blank space is seen in the whole room.
A Prime Instagram Bait
The whole thing sounds like pretentious, chaotic architecture — but not really. Putu Made's eccentric design is rather easy on the eyes. The Balinese restaurant is decorated with cage-like seats, meaning guests will sit under a canopy of dried wood lit by paper lanterns. Each cage is arranged separately, giving satisfying privacy and comfort.
Every corner here is decorated with some houseplants and plastic vines dripping over the front wall. You could imagine the chilly atmosphere of having a picnic in the middle of a tropical garden, but with concrete walls around and the AC on.
Balinese decor is grounded on nature and culture. To balance both, Putu Made is adorned with traditional carved wood doors. Not as a doorway, but simply for wall decoration. A gigantic, Balinese dancer mural covers the whole wall at the back. It is so big that you can see it from the outside. In other words, picture perfect for your Instagram feed.
Full video:
The More, the Better
If you go to Putu Made, which I think you should, you'll see some strong games in the main course lineup.
Every Balinese restaurant ensures their bebek betutu (Balinese slow-cooked duck) tastes the best — Putu Made is one of them. But it is the whole duck, slow-roasted for five hours in rich betutu spices, served with three different relishes on a banana stem, where this restaurant earns its stripes.
This is where Putu Made understands customers really well. Happily, it provides enticing set menus for those who want to try them all. Putu Made could serve every food in ala carte, subtly persuading customers to spend more money. But they choose not to, which I respect immensely.
Balinese sate lilit (minced meat satay) is mandatory in a place like this, but Putu Made knows how to play the game best. In addition to classics such as mutton and chicken, you can find unique satays that nobody expects to exist. There are escargot, tempeh, fish satays, etc — six in total.
Only in Putu Made, having too many choices is a good thing. Satay platter brings a tapas-style sharing plate for those who want to try them all. Less pressure, more flavors.
Another set menu to check out is nasi campur bebek (mixed rice with fried duck). It is a huge set of leaf-shaped rice, fried duck thigh, one skewer of duck-meat satay, and a few veggies to add contrasting colors. With it comes a bowl of Balinese sambal matah (raw chili relish), which is enough to lubricate the rice and build up the spiciness.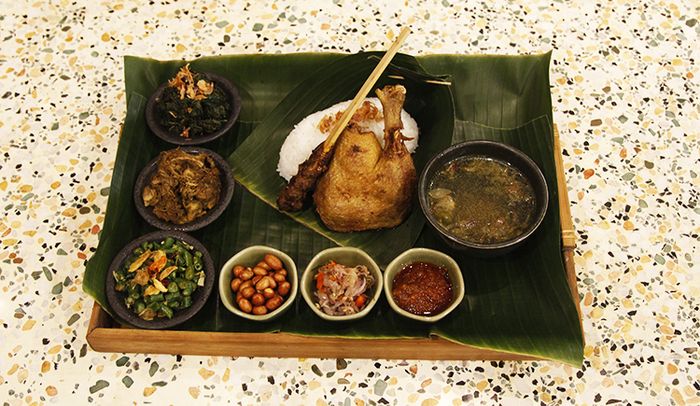 Putu Made's nasi campur bebek (mixed rice with freid duck meat) comes with satisfying tastes and portion.
Baca Juga: Experience Hundreds of Legendary Foods in Chinatown Ambience at Pantjoran PIK, North Jakarta
The dessert and beverages menu offers a bunch of tropical things, involving rambutan with chili dressing and assorted fruits with palm sugar. We retreat to coconut melon punch and wedang sereh aren (hot ginger broth and lemongrass). I took one-to-two sips only, but both drinks calm my throat quickly after eating a series of fatty, big foods.
Putu Made is a sort of place where people come hungry, to leave happy and satisfied. The long and thick menu book containing almost a hundred foods doesn't pressure me. It is engineered to make customers make the best choice rather than maximizing profit. That's rarer than you think.
Putu Made restaurants are located in PIK Avenue and Senayan City malls.