Learn how to make Lele Goreng Mangut (fried catfish in spicy coconut stock) with this step-by-step recipe!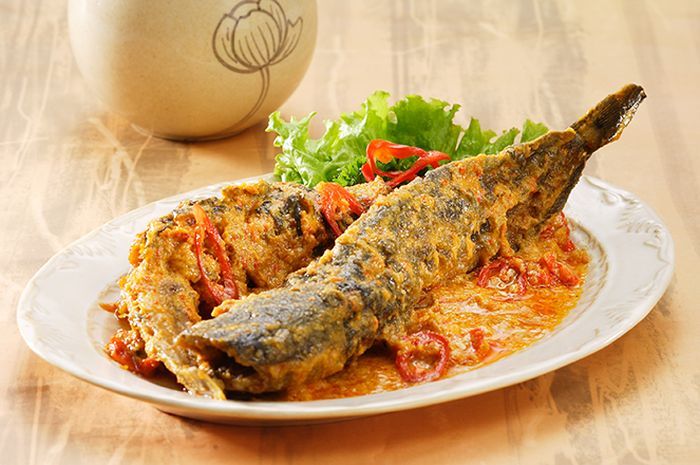 Kitchenesia.com - While food stalls along beach walk mostly sell light munchies like roasted corn and ice cream, North Coast way (Pantura) in Central Java provides "unusual dish".
It is called Mangut, a spicy broth origin from Central Java, especially in Semarang city and Kendal regency's beaches. It goes heavy on the coconut milk to give it a thick broth with savoury flavour. The stock base also mingles with coconut milk, red chili, and cloves to make it spicy and deep-flavoured.
Mangut is often cooked with smoked fish. But it goes perfect as well if you fry the fish away to make your cooking ritual less time-consuming. Eat Lele Goreng Mangut (fried catfish in spicy coconut stock) alongside steamed rice to keep energized for a day.
Cooking time: 60 minutes
Yields: for 10 persons
Ingredients
1kg of catfish (about 9 pieces)
1 kaffir lime
2 garlic cloves, ground
500ml coconut milk
2 bitter bean pods, take the beans out of the pods
4 bay leaves
2 kaffir lime leaves
2 lemongrass stalks, crushed
1cm piece of galangal, crushed
5 red bird eye's chilies
5 red cayenne peppers
65 grams green chili, cut on the bias
1 tbsp chicken powder
1 tbsp sweet soy sauce
1 tbsp sugar
1 tsp salt
500ml cooking oil
For spice paste:
8 shallots
6 garlic cloves
3 candle nuts, roasted
2 tbsp coriander, roasted
5 red bird eye's chilies
10 red cayenne peppers
3 cm piece of aromatic ginger
Cooking Steps
1. Place all spice paste ingredients in a pestle. Grind them using stone mortar until making a fine, smooth paste.
2. Clean up catfishes thoroughly and soak them in a mixture of kaffir lime juice, salt, and ground garlic. Let them absorb for 10 minutes.
3. Prepare a wok and heat cooking oil at medium heat. When simmers, add seasoned catfishes to the wok. Fry until brown and done. Set aside.
4. In a new wok, heat 2 tbsp of cooking oil at medium heat. Add spice paste and stir until fragrant. While stirring, add bay leaves, kaffir lime leaves, galangal, cayenne peppers, and bird eye's chilies. Stir well until fragrant and blended, or for 2 minutes.
5. Pour water and coconut milk gradually. Stir in between to avoid coconut milk turns curdles. While stirring, add chicken powder, sweet soy sauce, sugar, and salt. Keep stirring until boiled.
6. Add catfishes and green chillies. Stir constantly until the stock is thickened and reduced. Remove from wok and transfer to a big, heat-proof bowl.
7. Serve Lele Goreng Mangut (fried catfish in spicy coconut stock) alongside steamed rice as sohoor's dishes.
Tags
PROMOTED CONTENT
Tags