Follow this practical recipe to whip up kroket sambal goreng (croquette filled with sambal goreng ) at home.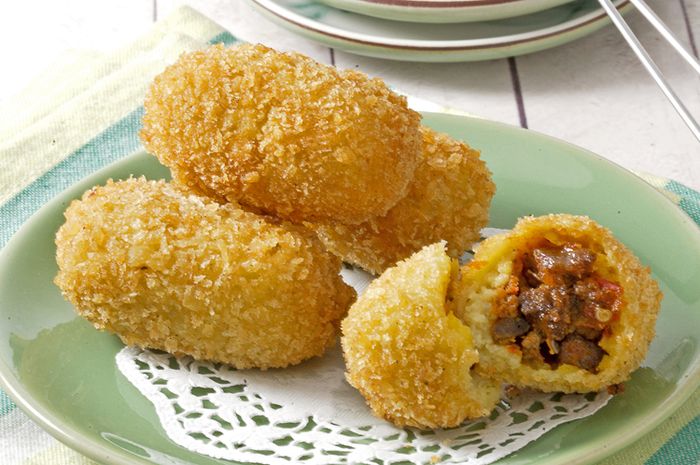 Kroket Sambal Goreng recipe
Kitchenesia.com - With millions of recipes at our fingertips, it is still hard to choose just one. One food looks more appetizing than others, but the other seems to be easier.
Congratulations, you are in the right place. Today's recipe is about blending two cultures into one mouthwatering light bites.
Whip up yourself Kroket Sambal Goreng recipe (fried sambal-filled croquette), a French dish with an Indonesian flair. The contrast of spicy sambal and crisp croquette skin surely is a not-to-be-missed experience.
Duration: 60 minutes
Yields: 12 rolls
Ingredients
Coating mix:
300gr, boiled potato, mashed into a pulp
30gr powdered milk
1 egg yolk
3/4 tsp salt
1/8 tsp pepper powder
1/2 tsp nutmeg powder
1 tsp margarine
100 gr coarse bread crumbs
Dip mix:
2 eggs, beaten
For filling:
5 chicken livers, boiled then diced into small cubes
1 bay leaf
1 cm piece of galangal, crushed
3/4 tsp salt
1 tsp palm sugar
250 ml coconut milk
500 ml cooking oil
Seasoning paste:
2 candlenuts
3 chili peppers
4 shallots
2 garlic cloves
1/2 tsp shrimp paste
1 small tomato
Cooking Steps
Sambal goreng filling:
1. Using mortar and pestle, grind all seasoning paste ingredients until soft.
2. Heat oil on a pan over medium heat. Once simmering, add seasoning paste, bay leaf, and galangal. Stir well until fragrant. Add chicken heart then stir well. Then, add sugar and palm sugar. Stir for a while until blended.
3. Pour coconut milk gradually into the pan. Keep stirring until the coconut milk is thickened. Turn off the stove and remove it from the pan.
Croquette skin:
1. Add mashed potato, powdered milk, yolk, salt, pepper powder, nutmeg powder, and margarine (basically all skin ingredients except bread crumbs) into a bowl.
2. Blend mixture using hands until perfectly blended,
Combining them together:
1. Take 25 grams of skin mixture (about 2,5 tablespoon) and flatten it with your palm. Put 1 tablespoon of filling in the middle, roll the mixture back and forth until the oval becomes more circular. Repeat this step all the skin and filling mixture run out (whichever comes first).
2. Spread bread crumbs in a tray. Dip the rolls in a bowl of egg and move them into the tray. Make sure to make every side of rolls coated with bread crumbs evenly.
3. Heat oil in a wok over medium heat. Add croquette into the wok. Once they turn golden brown, remove them from the wok.
4. Serve kroket sambal goreng as an afternoon appetizer.
Tags
PROMOTED CONTENT
Tags