Learn to make tasty and fulfilling Lontong Isi Telur Sayur (rice cake with vegetable egg filling) at home with this step-by-step recipe!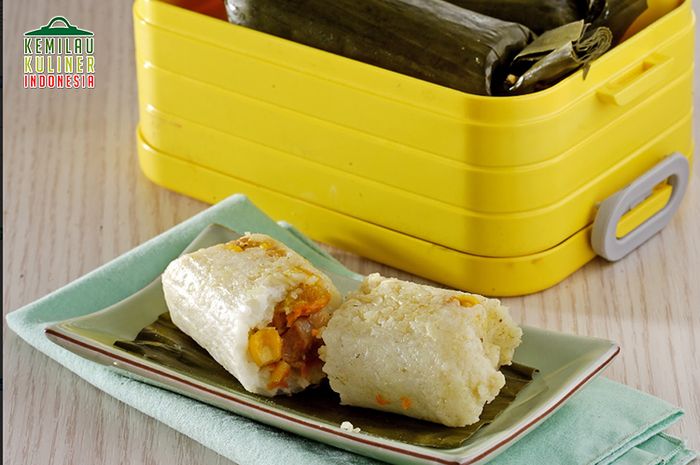 Jangan Sampai Ketinggalan Membuat Resep Lontong Isi Telur Sayur Sebagai Menu Buka Puasa
Kitchenesia.com - When it comes to versatility, lontong singlehandedly outclasses any food out there. The rice wonder is great as an appetizer, but fulfilling enough to be main course. It is mostly made by stuffing vegetables or meat (or both), making it a complete, flavourful dish.
Lontong isn't necessarily a Ramadan food, but it is obvious to see the influx of lontong seller on street during the Holy Month. This is kind of thing you eat with bare hands, and eat right away without utensils or even table.
Whip up yourself Lontong Isi Telur Sayur (rice cake with vegetable egg filling) with no-fail recipe below.
Duration: 90 minutes
Yields: 10 pieces
Ingredients
For lontong:
500 grams (5 cups)
1 L chicken broth
1 bay leaf
11/2 teaspoon salt
6 raw salted eggs, cut each into small dices
banana leaves
For filling:
2 chicken breast fillet, cut into small dices
4 garlic cloves, minced
1/2 onion, minced
2 sweet corn cobs, remove the kernels from cobs
1 carrot, shredded
2 tablespoons oyster sauce
2 teaspoon salt
2 teaspoon sugar
300 ml water
3 tablespoons vegetable oil
Cooking Steps
1. How to make filling: heat oil over medium flame pan. Add onion and garlic, stir constantly until fragrant. Add chicken while stirring. Stir well until the chicken turns brown. Add carrot and corn kernels and stir constantly until wilted.
2. Add oyster sauce, bay leaf, and sugar to the pan. Gradually pour water and cook until dried. Set aside.
3. How to make lontong: Clean the banana leaves with clean, dry towel. Cut 10 pieces of 25 cm width. Warm them up briefly on an open fire. Set aside.
4. Place water, bay leaf, and salt in a pressure cooker. Bring it to boil over medium flame. Stir constantly in between. Remove when well-boiled
5. Add rice grains and chicken broth. Stir constantly in between until making rice.
6. Take 2 banana leaves and put in stack. Roll lengthwise into cylinder with glossy sides face outside. Pin one of the ends with toothpick. Fill in a spoon of rice, filling, salted egg, and spoon of rice again consecutively. Pin the other one of ends with toothpick, so you have both sides secured. Repeat this step until the rice or filling runs out.
7. Put lontong in pot and steam them for 1 hour. When they appear to be soft, remove from pot.
8. Serve Lontong Isi Telur Sayur (rice cake with vegetable egg filling) as iftar entrée
PROMOTED CONTENT
Tags