Follow this recipe to cook the delectable rice dish from Central Java, Nasi Liwet (rice cooked with coconut milk) in simplest and easiest way!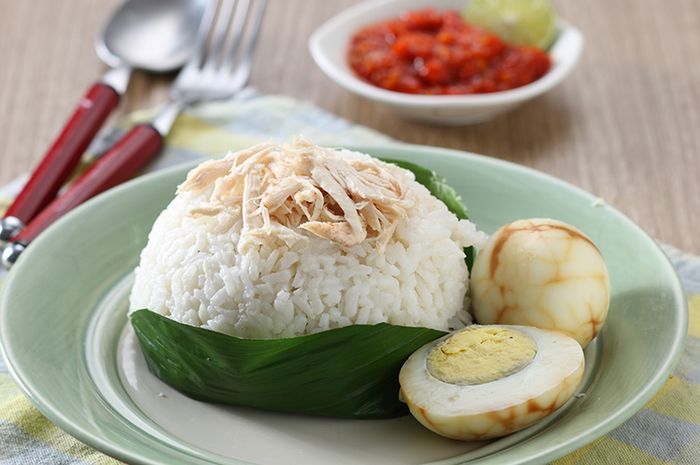 Nasi Liwet, a celebration food that is fitting to eat everyday!
Food for celebration is now eaten everyday!
Kitchenesia.com - Nasi liwet is one among hundreds traditional rice dishes, along with nasi uduk and nasi ulam. However, Nasi liwet has unusual presentation compares to its sisters. Most of the time, rice is served on a plate and each plate for one person.
Nasi liwet, on the other hand, served on long banana leaves and put them on the floor. This tradition is called Liwetan, and has existed as old as the food itself. Liwetan is trendy in city nowadays.
Nasi Liwet is appropriately eaten together. But hey, no one can stop you when you want to eat it alone. Also, Nasi liwet is really easy to cook!
Duration: 45 minutes
Yields: 5 servings
Ingredients
400 grams rice grains
3 bay leaves
2 lemongrasses, crushed
2 teaspoons salt
1 liter coconut milk
Ingredients for Shredded Chicken:
1/2 of chicken, halved then shredded
2 bay leaves
2 lemongrasses, use the white bulb only
2 cm galangal, crushed
1/2 tablespoon salt
2 teaspoon palm sugar, grated
1 liter coconut milk
Paste Ingredients :
2 cloves garlic
5 shallots
1/2 teaspoon coriander
3 candlenuts, roasted
Mix all paste ingredients and grind them with mortar and pestle.
Additional condiment:
4 tablespoons sambal bajak (chili with garlic, shrimp paste and palm sugar), available in supermarket.
Cooking Steps
1. How to make nasi liwet: boil rice grains, bay leaves, lemongrass, salt, and coconut milk altogether in a pan. Stir rice while boiling on a medium fire. Turn off stove when boiled.
2. How to make shredded chicken: blend shredded chicken and paste ingredients. Stir-fry until fragant. Add shredded chicken into the pan. Stir until well-blended.
2. Serve Nasi Liwet (rice cooked in coconut milk) with shredded chicken and sambal bajak.
Tips: you can add another side dishes up to your taste like fried anchovies or hard-cooked eggs!
PROMOTED CONTENT
Tags