Learn to make cripsy and flavors-rich Stuffed Tofu with Shrimp at home with this step-by-step recipe!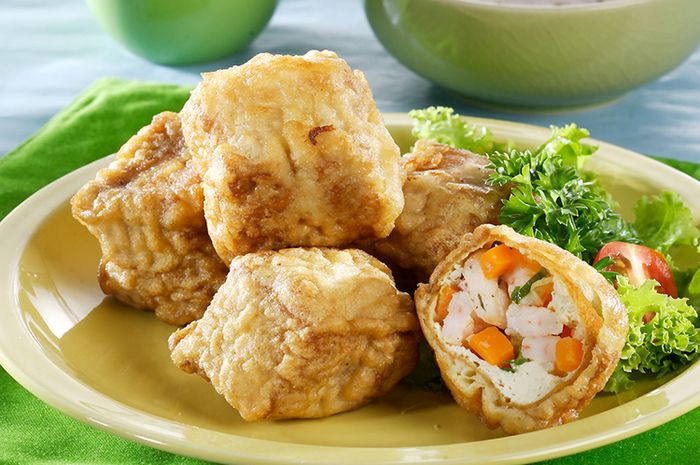 Tahu Isi Udang Goreng Sederhana (Stuffed Tofu with Shrimp) makes a perfect snack to keep energized during work-from-home.
Kitchenesia.com - Just like its sister bakwan, stuffed tofu with shrimp was brought by Chinese diaspora centuries ago. Namely Cui Pei Doufu, this deep-fried snack is known throughout Chinatown across the globe.
You can find the original taste of cui pei doufu in every Chinatown but Indonesia's. Assimilate to local culture, this snack utilizes local ingredients such as petis (black shrimp paste). Indonesia's cui pei doufu recipe also eliminates wine for cooking.
When working from home, this stuffed tofu with shrimp is tasty from its skin to the fillings to be your accompaniment. You can make one at home by following easy and no-fail recipe below.
Duration: 45 minutes
Yields: 15 tofu
Ingredients
1 block of soft tofu, diced into 15 cubes then deep-fried
For crispy tofu skin:
150 grams all-purpose flour
1 tablespoon rice flour
1 egg, beaten
1/2 teaspoon baking powder
1 teaspoon salt
1/4 teaspoon ground white pepper
1/4 teaspoon sugar
200 ml water
For the shrimp fillings:
150 grams shrimps, peeled and deveined
1 carrot, diced the boiled
1/2 teaspoon salt
1/4 teaspoon ground white pepper
1 scallion, chopped
For the dipping sauce:
100 grams ground nut, fried
2 cayenne peppers
1/2 teaspoon petis (black shrimp paste)
2 tablespoons tamarind water
1 garlic clove
3/4 teaspoon salt
1/2 teaspoon brown sugar
1 tablespoojn sweet soy sauce
100 ml boiled water
Cooking Steps
1. Put shrimp to a bowl and add in the rest of filling ingredients. Mix until well-combined.
2. Cut a tofu piece in half lengthwise. Place a teaspoon of filling dough into tofu. Repeat this step until the tofu runs out. Set aside.
3. On a different bowl, add all tofu skin ingredients except beaten egg to a bowl. Hand-mix the dough. Add beaten eggs and mix well until combined.
4. Dip the tofu cubes into the tofu skin dough and coat them. Make sure all tofu's sides are equally coated.
5. Fry them until golden. Make sure not to overcrowd the pan by cooking too many at once. Set aside.
6. To make the dipping sauce, mix all dipping sauce ingredients and grind them using mortar and pestle until soft.
7. Serve fried tofu stuffed with shrimp alongside the dipping sauce.
Tags
PROMOTED CONTENT
Tags