Let's bring this street snack on the table! Bakso Cilok Kacang Pedas will make ultimate snack for its delicacy.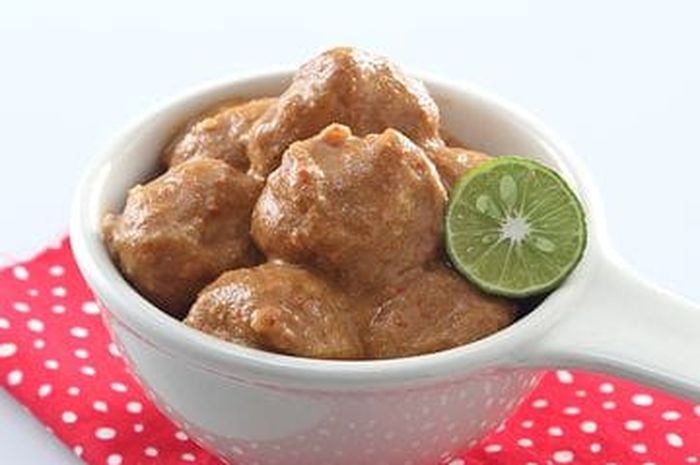 Delighful Bakso Cilok
Cooking Steps
/p>
Kitchenesia.com – Bakso Cilok widely celebrated among street food lovers due to its chewy texture and salty tasta. However, its lowkey profile makes the food somehow lose its charm at the same time and less preferable for those high-end culinary curious. But still, this food is delectable in its affordability.
You can bring this food to the table within 30 minutes by following Kitchenesia steps below!
Duration : 30 minutes
Yields : 6 servings
Ingredients
250 grams of minced chicken
2 teaspoons of coarse salt
25 grams of egg white
150 grams of shaved ice
1/2 teaspoon flavoring
2 cloves of garlic puree
1/4 teaspoon ground pepper
1/2 tablespoon fried shallots
150 grams of sago flour
Ingredients for sambal:
100 grams of peanut, fried, grind
5 teaspoons brown sugar, shredded
400 ml of water
Ingredients to grind at once:
8 curly red chilies
2 red cayenne peppers
1 cm galangal
2 cloves of garlic
1/4 teaspoon shrimp paste
1 sheet of orange leaf, remove the bone leaves
1 teaspoon of salt
1. Meatball steps: Put in minced chicken and salt into the food processor. Grind until the texture throughly smooth.
2. Add the egg whites, shaved ice, flavoring, chili, garlic, pepper powder, and fried shallots into the meatball dough. Grind until all the ingredients evenly blend.
3. Add sago flour into the meatball dough. Grind evenly again until throughly blend and the texture is smooth.
4. Take the dough. Make a round shape out of it. Add some lukewarm water. Boil until it is fully cooked. Set it aside for awhile until it cools down.
5. Sambal steps: boil some water and put in spices (refer to ingredients for sambal and spices to grind), and brown sugar until it has aromatic smell. Add the already ground peanuts. Let it in the same state until it is fully cooked and starts bubbling.
6. Cilok and the sambal are ready to be served.
Tags
PROMOTED CONTENT
Tags