Make a wrap to your day by having this delicious dish of Lodeh Rebung Kuning Pedas for your supper tonight.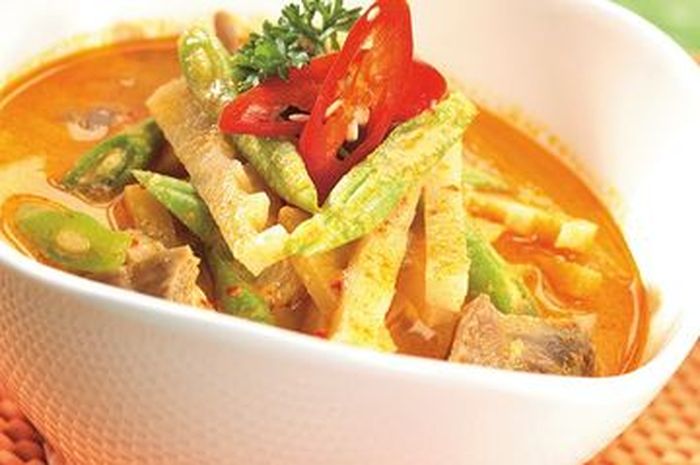 Spicy but tasty Lodeh Rebung Bumbu Kuning
Kitchenesia.com - If you happen to cherry pick what to bring on the table for supper, don't miss out Lodeh Rebung Kuning. The bold taste of soup from spices with gizzard and bamboo shoots combined are the kind of tasty yellowish dish you can't ignore.
It is best accompanied with lukewarm rice or rice cake. The good news is, you don't need to fuss over the process. Spend 30 minutes for this awaiting delicacy!
Duration : 30 minutes
Yields : 10 servings
Ingredients
15 pieces of gizzard each cut into three parts
1000 ml of mineral water
2 bay leaves
2 cm galangal, contused
300 gram bamboo shoots, cut in short stick
100 grams of green beans, cut askew
1 1/2 tablespoons of salt
1 1/2 teaspoon granulated sugar
1 1/2 teaspoons of tamarind water
1900 ml coconut milk from 1 whole coconut
3 tablespoons of oil for sauteing
Ingredients to grind at once:
8 red onions
3 cloves of garlic
4 red chilies
1 piece of shrimp paste
2 cm turmeric
Cooking Steps
1. Boil the gizzard and water until the texture becomes tender. Lift it up and cool it down for awhild. Cut into pieces, squarely.
2. Saute ground spices, bay leaves, and galangal until fragrant.
3. Add the gizzard. Stir evenly. Add bamboo shoots and green beans. Stir evenly again.
4. Add coconut milk, salt, sugar, and acidic water. Cook until it starts boiling
PROMOTED CONTENT
Tags