Aromatic Mangut Lele Kemangi is suitable to kick out your hunger, especially when you eat it along with rice.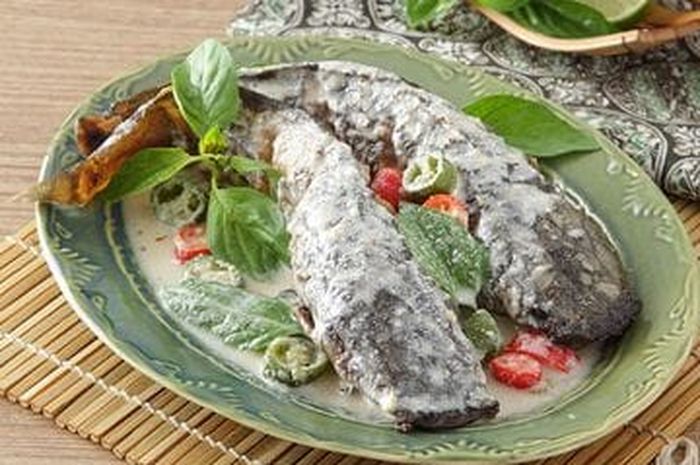 Mangut Lele Kemangi for your lunch side dish today
Kitchenesia.com - Weekend is nearly approaching, have you come up with something in mind what to eat ahead? Kitchenesia suggests you to opt for this undeniably delectably aromatic Mangut Lele Kemangi (Catfishes with Coconut Milk and Basil) to kick out your pang of hunger.
Don't be bothered by the steps as the delicacy won't betray!
Duration : 45 minutes
Yields : 4 servings
Ingredients
4 catfish, tightened
1 lime fruit, extract the water
1 1/2 teaspoon salt
5 basil leaf stalks, take the leaves
2 large red chilies, cut 1 cm each
2 large green chilies, cut 1 cm each
2 bay leaves 3 kaffir lime leaves, remove the hard part
2 cm galangal, flatten
1 lemongrass stalk, use the white part only, flatten
1/2 teaspoon salt
1/2 teaspoon brown sugar, shredded
500 ml coconut milk from whole coconut
500 ml of oil for frying
2 tablespoons of oil for sauteing
Ingredients to grind at once:
6 red onions
3 cloves of garlic
1/2 teaspoon coriander, roasted
4 grains of hazelnut
1 cm galangal
1 cm of ginger
Cooking Steps
1. Smear the catfish with lime juice and salt. Set it aside for 15 minutes.
2. Fried catfish in oil that has been heated over medium heat until cooked. Lift it up, set it aside.
3. Heat oil, saute ground spices, large red chili, large green chili, bay leaves, orange leaves, galangal, and lemongrass until it is fragrant.
4. Add coconut milk, salt, and sugar. Stir until it starts boiling. Add the catfish. Cook until it starts boiling. Add the basil leaves. Stir evenly.
PROMOTED CONTENT
Tags