Nutritious side dish within 30 minutes is possible with Sup Ayam Tomat Hijau. Not only is the dish tasty but also healthy.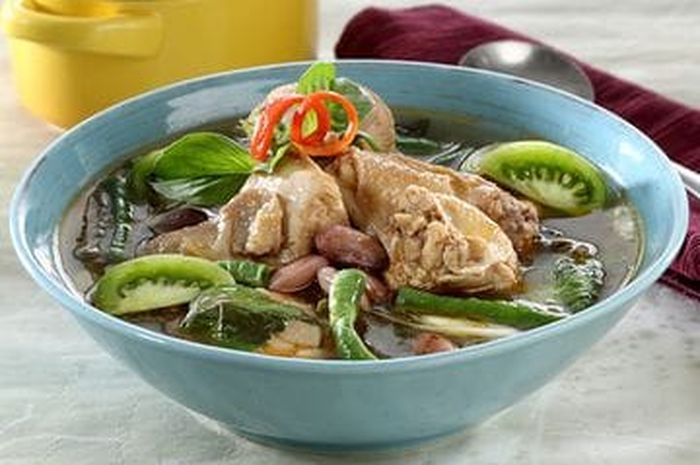 Healthy and tasty Sup Ayam Tomat Hijau
Kitchenesia.com - We need to put forth our health these days under uncertain condition. Make sure you opt for healthy diet. Sup Ayam Tomat Hijau (Chicken Soup with Green Tomatoes) can be your mainstay to fulfill your daily dose of nutrition.
Bring it on to your table within 30 minutes cooking!
Duration : 30 minutes
Yields : 6 servings
Ingredients
1/2 chicken, cut into 12 parts
2 tablespoons of tamarind water, from 1/2 tablespoon of acid, dissolve with 3 tablespoons of water
3 pieces of orange leaves, use the leaves only
1 lemongrass stalk, sliced ​​
6 green tomatoes, cut into pieces
5 long bean sprouts, cut into 3 cm each
50 grams of fresh red beans
2 scallions, cut into oblique
3 basil leaves
4 teaspoons of salt
1 teaspoon granulated sugar
1/2 teaspoon of chicken stock
1,500 ml of mineral water
2 tablespoons of oil, for sauteing
Ingredients to grind at once:
2 candlenuts, roasted
2 cloves of garlic
4 shallots 3 red curly chilies
3 red cayenne peppers
Cooking Steps
1. Smearthe chicken with tamarind extract. Set it aside for 25 minutes.
2. Heat the oil. Saute spices that already ground, orange leaves, and lemongrass until it is fragrant.
3. Add the chicken. Stir until it changes color.
4. Pour water. Cook until it starts boiling.
5. Add tomatoes, string beans, and kidney beans. Stir evenly.
6. Add salt, sugar, and powdered chicken stock. Stir evenly. Cook until it is fully cooked. Pour in the leeks and basil leaves when it is about to be lifted up. Stir evenly
Tags
PROMOTED CONTENT
Tags