Learn to make delectable and fulfilling stir-fried noodles with mushrooms at home with this step-by-step recipe!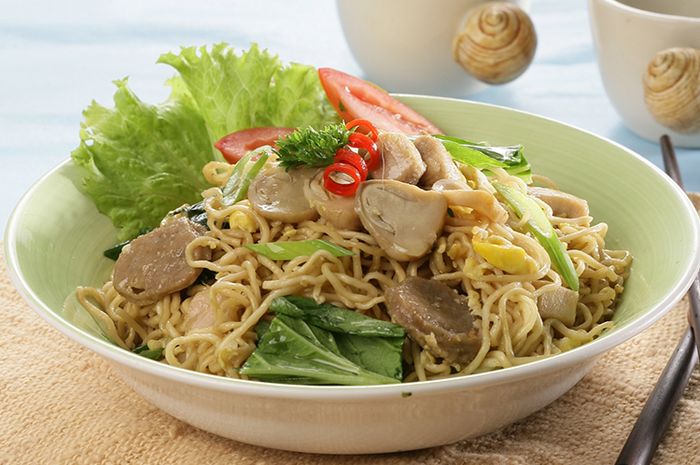 Recipe: Mi Goreng Ayam Jamur (stir-fried noodles with mushrooms) makes a fulfilling lunch in 30 minutes only!
Kitchenesia.com - You know the drill: preparing meals at home is healthy for your body and wallet. But we don't have the luxury of time to cook three meals a day; and, takeout sometimes entice us as well for it is quick and tasty. But let's face it, we can't control any things inside our taking-out foods.
Although many frozen foods come in handy, like sausage or nugget, we can't eat them often.
Kitchenesia answers to your confusion. We guide you to release yourself from living off frozen foods by presenting practical and easy recipes. Namely Stir-Fried Noodles with Mushrooms, it is fulfilling, delicious, and full of nutritionally beneficial mushrooms.
Duration: 30 minutes
Yields: 4 servings
Ingredients
3 rolls of ready-to-use wet noodles
1 tablespoon of soy sauce
4 garlic cloves, minced
100 grams chicken thigh fillet, diced
2 chicken eggs, beaten
4 beef meatballs, halved
75 grams straw mushroom, chopped
4 stalks of choy sum, chopped
1/2 tablespoon sweet soy sauce
3/4 teaspoon salt
1/4 teaspoon white pepper powder
1/4 teaspoon chicken broth powder
1 scallion, cut on the bias
5 ml water
2 tablespoon vegetable oil
1 tablespoon fried shallots
Cooking Steps
1. Boil noodles in a pot and bring it to boil over medium flame for 4-5 minutes. Stir occasionally in between. When it is soft, transfer noodles to colander to drain excess water.
2. Pour soy sauce to the noodles. Let it mariante for 3 minutes.
3. Heat oil on large sauté pan over medium-high heat. When the oil simmers, add garlic and chicken thigh fillet to the pan. Cook until tender and and starting to brown. Move them aside to the corner of the pan.
4. Add eggs to the pan. When it simmers, add meatballs, straw mushroom, and choy sum. Stir constantly using spatula to combine and heat through all ingredients.
5. Add noodles, sweet soy sauce, salt, white pepper powder, and chicken broth powder to the pan back-to-back. Cook for 2 minutes or until all ingredients are combined well.
6. Remove to bowl and add fried shallots on top of Stir-Fried Noodles with Mushrooms.
Tags
PROMOTED CONTENT
Tags