This snack usually comes in various colors from light pink to white with banana as its filling. Live up your day with it!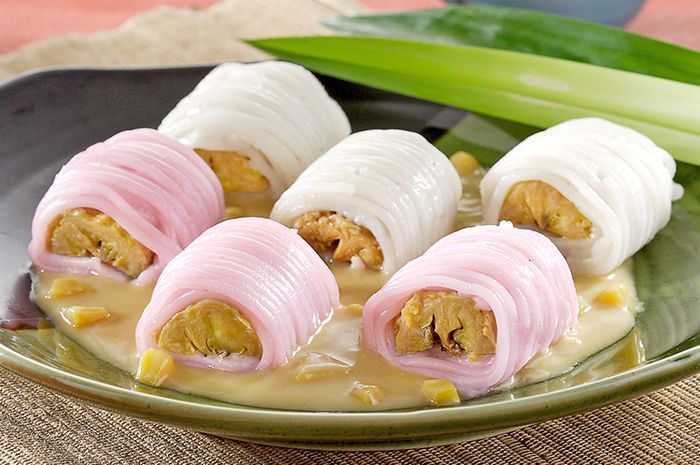 Mouth watering Putu Mayang
Kitchenesia.com – Putu Mayang Pisang comes irrestible with its bold sweet from the sauce and banana combined. This is one of Indonesia traditional street snacks everyone should cherish.
Isn't it tempting by the look of it? Try it out with the steps Kitchenesia has provided for you!
Duration : 60 minutes
Yields : 30 servings
Ingredients
300 grams of rice flour
3 tablespoons of sugar
1 1/2 teaspoon salt
100 grams of sago flour
550 ml of coconut milk from 1 coconut
5 drops of pink coloring
1 sheet of banana leaf (as a base to roll the putu)
4 banana horns, cut 4 cm, cut into pieces
Ingredients for sauce:
800 ml coconut milk from 1/4 coconut
150 grams of brown sugar
1/2 teaspoon salt
1 sheet of pandan leaves
100 grams of jackfruit, cut into small squares
3 tablespoons of cornstarch are dissolved in 3 tablespoons of water
Cooking Steps
1. Cook rice flour, sugar, salt and coconut milk while stirring it until it is lumpy. Add sago flour while kneading it.
2. Divide the dough into 2 parts. One part was given a pink coloring. Stir evenly. The remaining is left without coloring.
3. Put the dough into the Putu Mayang cookie cutters. Press on top of a banana leaf that is rubbed with cooking oil. Put bananas inside, roll it cautiously.
4. Steam over medium heat for 15 minutes.
5. Sauce steps: cook coconut milk, brown sugar, salt, and pandan leaves while stirring it evenly until it starts boiling. Add jackfruit. Stir evenly again. Add cornstarch solution while stirring it until it is bubbling. Lift it up and set it aside for awhile.
Tags
PROMOTED CONTENT
Tags