Learn to make delectable and fulfilling special stir-fried noodles at home with this step-by-step recipe!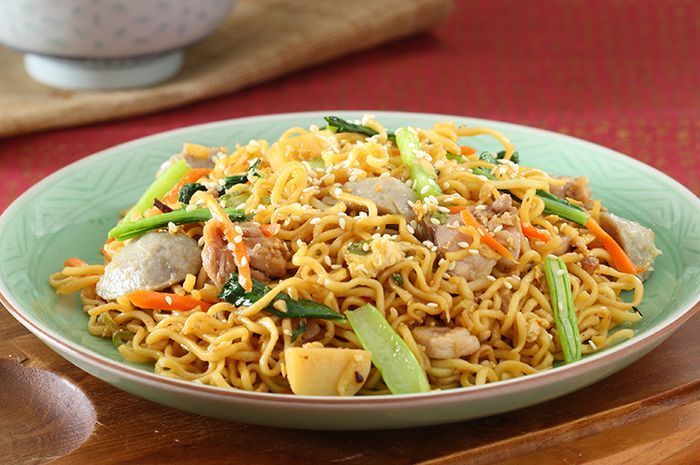 What makes special stir-fried noodles special is its combination of meats and herbs. Make your own at home by following the recipe below!
Kitchenesia.com - Rich, meaty, and big. They are three obligatory aspects of every hearty food, and Special Stir-Fried Noodles matches perfectly to those aspects. Another Peranakan food, this "special" food lives up to its name because of the sense of nostalgia it carries.
Not only does it satisfy every family member's craving, comfort food like special stir-fried noodles also can nourish on the soul level both in the act of eating and cooking it. Making it can with every family members involved is a prefect way to strengthen family bond.
Follow the recipe below to enjoy foods that comfort the appetite and the soul.
Duration: 30 minutes
Yields: 4 servings
Ingredients
200 grams (about 1 package) egg noodles
2 scallion stalks, chopped
1 dried red chilli, chopped
3 garlic cloves, minced
1 chicken egg, beaten
50 grams carrot, julienned
8 choy sum stalks, chopped
1 teaspoon sesame oil
1 teaspoon sesame seeds
2 tablespoons vegetable oil
Meat ingredients:
150 grams chicken thigh fillet, cut into 2-cm dice
5 beef meatballs, halved
4 fish meatballs, halved
Seasoning ingredients:
1 teaspoon fish sauce
1 tablespoon sweet soy sauce
1 tablespoon oyster sauce
1/4 teaspoon white pepper powder
1/4 teaspoon salt
Cooking Steps
1. Boil noodles in a pot and bring it to boil over medium flame for 4-5 minutes. Stir occasionally in between. When it is soft, transfer noodles to colander to drain excess water. Set aside.
2. Heat vegetable oil in a wok over medium flame. When the oil simmers, add garlic paste and scallion, stir well. Add all of meats ingredients altogether to the pan. Stir until fragrant and starting to brown.
3. Add egg and let it cooked for a while (30 seconds). Stir occasionally in between until the egg is simmering.
4. Add carrots and choy sum to the wok, stir constantly until the vegetables withered.
5. Add noodles to the wok. Stir constantly using spatula to combine and heat through all ingredients.
6. Add all of seasoning ingredients altogether to the pan. Stir well.
7. Add sesame seeds and sesame oil. Cook for 2 minutes or until all ingredients are combined well.
8. Remove to bowl. Serve Special Stir-Fried Noodles immediately while hot.
Tags
PROMOTED CONTENT
Tags