Learn to make tasty and flakky Crispy Vegetables Bakwan Fritter at home with this step-by-step recipe.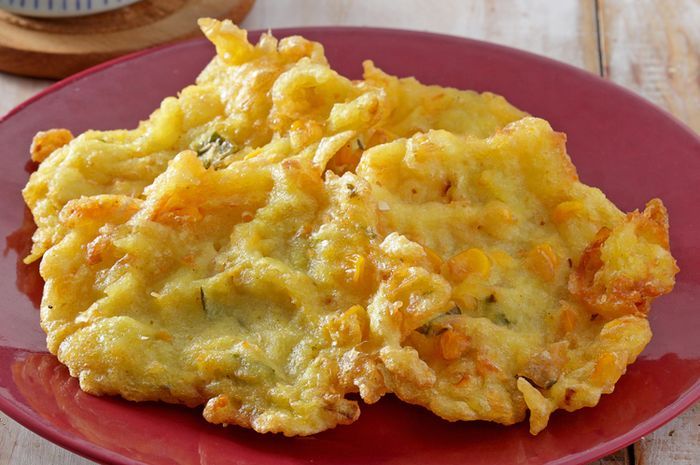 Bakwan (vegetables fritters), will satisfy sweet and savory snack lovers alike
Kitchenesia.com - Have a plenty vegetables stock like carrot and bean sprout? Mix all of them with batter and you'll get the delectable bakwan, a traditional vegetable fritter. The best part of bakwan is that it is served for luncheon, dinner, supper, as an entree, or appetizer; basically, it is friendly to served at any time.
Try to cooking them up by following the recipe below.
Duration: 30 minutes
Yields: 12 fritters
Ingredients
100 grams all-purpose flour
50 grams rice flour
2 cloves garlic, ground
200 ml iced water
100 grams carrot, julienned
75 grams mung bean sprouts
150 grams cabbage, finely sliced
50 grams oyster mushroom, finely sliced
1 scallions, finely sliced
1/2 teaspoon chicken bouillon powder
1 teaspoon salt
1/2 teaspoon white pepper powder
1/2 tablespoon coriander seeds powder
1/2 teaspoon sugar
Cooking Steps
1. Mix well all-purpose flour, rice flour, garlic, chicken bouillon powder, salt, pepper, coriander, and sugar. Pour in water gradually while still mixing it.
2. Add carrot, mung bean sprouts, cabbage, mushroom, and scallions. Mix it well.
3. Heat cooking oil in the frying pan. Spoon the mixture to the edge of the pan. Drench it with the hot oil until it is coming off from the edge of the pan and sliding into the hot oil. Keep frying it until crispy and golden brown. Remove from heat.
4. Crispy Vegetables Bakwan Fritter is ready to serve.
PROMOTED CONTENT
Tags