Learn to make tasty and warm perkedel hijau (green potato fritters) at home with this step-by-step recipe.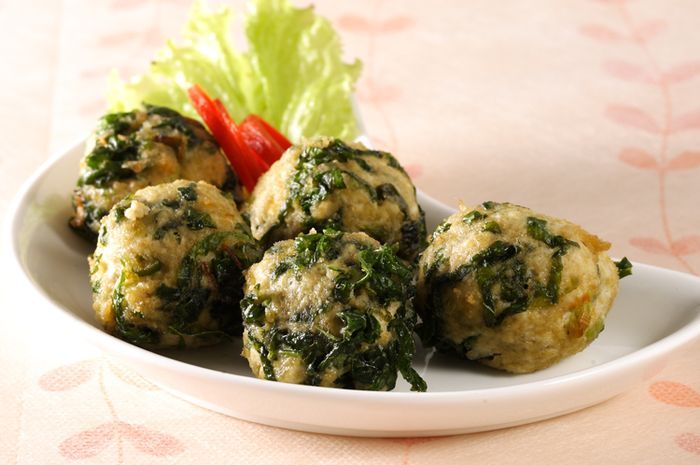 Perkedel tahu hijau (green mashed potato) is the best way to introduce kids to vegetables. Resep Perkedel Tahu Hijau yang Nikmat Dan Sehat Ini Tersaji Dengan Cara yang Berbeda
Kitchenesia.com - It is a common sense that vegetables are good for body. In fact, vegetables occupy a quarter of our breakfast, lunch, and dinner plates.
But there is always a fussy eater that hates veggie in the family, commonly the kid. Everyday dinner feels like a battle!
Considering this fact, parents should serve the veggies creatively in order to make children's tastebuds familiar to it. The best way (or more like, the easiest way) is by hiding vegetables in a dish.
Fear not, Indonesian cuisine has a plethora of vegetable foods. Green Perkedel recipe below is one of them. But in this recipe, we're going to alter it a lttle bit by mixing perkedel with spinach in order to make it tastier and colorful.
Duration: 30 minutes
Yields: 16 balls
Ingredients
300 gram silken tofu
1/2 bunch of spinach, discarded the stalks
1 leek, chopped
1 egg
1 teaspoon salt
2 tablespoons cooking oil to sauté
500 ml cooking oil to deep-fry.
Spicy paste ingredients:
1 clove garlic
2 shallots
1/2 dried shrimp, roasted.
Grind all paste ingredients with mortar and pestle
Cooking Steps
1. Boil spinach until withered. Chop well
2. Heat oil over a medium heat pan. Add ground paste and stir-well until fragrant. Set aside.
3. Mix all ingredients and sautéed ground paste in a bowl.
4. Take a coined-shape of dough and roll it to make a ball. Repeat this step until the dough runs out.
5. Deep-fry dough balls until brown.
Tags
PROMOTED CONTENT
Tags