Learn to make aromatic and flavorful Betawinese Nasi Kuning (turmeric rice) at home with this step-by-step recipe.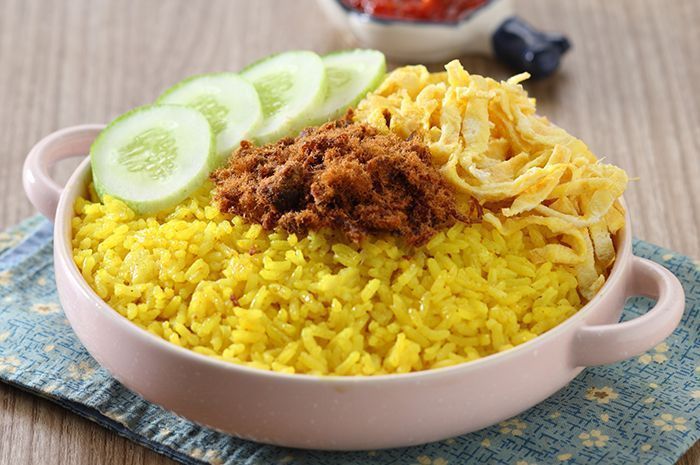 In the mood for a comfort food? Nasi Kuning (turmeric rice) won't go wrong
Kitchenesia.com - Besides giving the yellow color to the rice, turmeric also exudes aromatic fragrant to this dish. Name after its main ingredient, turmeric rice is appropriately a celebratory food.
Betawinese makes turmeric rice when there's occasion worth celebrating in their family, like akikahan (Islamic's baby shower), new-born baby celebration, or even birthday party.
But no one can stop you when you're craving this flavorful dish when there are nothing to celebrate. To avoid hustle and fuss, follow the recipe below for no-fail and easy recipe of turmeric rice!
Tips: this food is best to supplement savory side dishes like fried chicken or omelet
Duration: 30 minutes
Yields: 3 servings
Ingredients
600 gram steamed rice
1 bundle (75 grams) of spinasch, boiled
150 grams shrimps, peeled
1 teaspooon salt
1/2 teaspoon white pepper
2 tablespoons cooking oil
Paste Ingredients:
2 centimeters piece of turmeric, roasted
5 shalllots
1 clove garlic
3 centimeters piece of galangal
Grind paste ingredients altogether until soft using mortar and pestle.
Cooking Steps
1. Heat oil over a medium-fire pan. Add paste and stir until fragrant. Set aside
2. Add shrimp into the pan. Fry until brown.
3. Add rice. Then add sauteed paste ffrom step 1. Stir until well-combined.
4. Add spinach, salt, and white pepper. Stir until absorbed.
PROMOTED CONTENT
Tags