Learn to make a tasty a sayur asem (Vegetables Tamarind Soup with Kidney Bean) at home with this step-by-step recipe.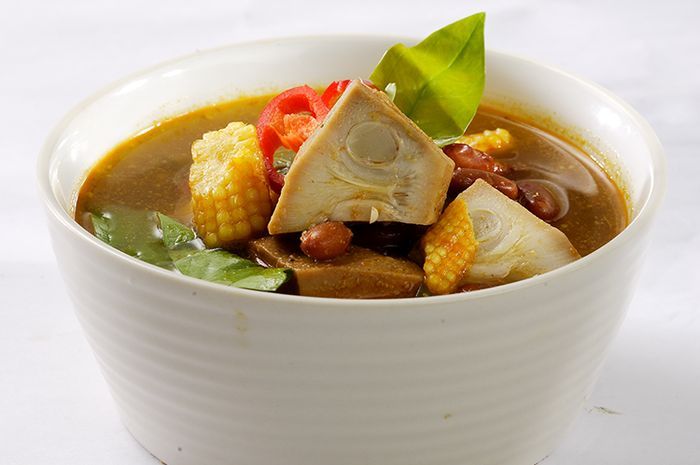 Resep Sayur Asam Kacang Merah (kidney bean in tamarind soup) is a full-packed of flavors and nutritions in one dish!
Kitchenesia.com - There are deep-rooted characteristics of Sundanese in a bowl of sayur asam (vegetables in tamarind soup). Sundanese cuisine demonstrates simplicity in cooking method, common usage of raw vegetables, and clear taste.
Thus, it is not surprising that many Sundanese foods, such as lalap (raw vegetables) and sambal terasi (shrimp paste sambal) is very popular in the country. Today's Kitchenesia recipe is sayur asam, a Sundanese tamarind soup from West Java. We modify it a little bit by adding kidney bean.
Duration: 60 minutes
Yields: 4 plates
Ingredients
75 grams kidney bean, roasted
50 grams baby corn, chopped
100 grams unripe jackfruit, chopped
20 gram gnetum leaves
2 1/2 teaspoons tamarind extract
2 bayleaves
1 centimeter piece of galangal, crushed
2 teaspoons salt
1 teaspoon brown sugar
1/4 teaspoon powdered chicken broth
1.5 liter water
Spice Paste Ingredients:
1 big red chilli pepper, fried
2 red curly chilli, fried
8 shallots, fried
3 cloves garlic
4 candlenuts, fried
1 centimeter piece of turmeric, fried
1/2 teaspoon shrimp paste, fried.
Grind all ingredients until soft using mortar and pestle
Cooking Steps
1. Boil water, unripe jackfruit, bayleaves, and galangal altogether over a medium heat pan. Add ground paste, brown sugar, and chicken broth.
2. When it reaches boiling point, add kidney bean and baby carrot. Stir well.
3. Add gnetum leaves and tamarin extract. Keep stirring until well-abosrbed.
4. Serve vegetables in tamarind soup with steamed rice.
PROMOTED CONTENT
Tags