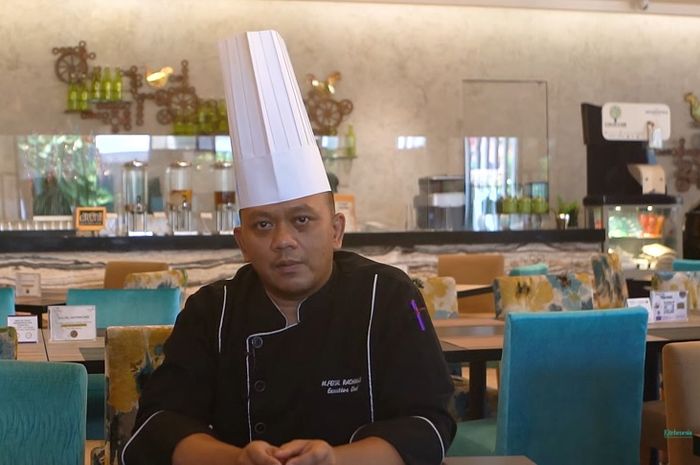 Mercure Jakarta Cikini introduces the new executive chef, Feisal Rachman.
Executive chef of Mercure Jakarta Cikini, Feisal Rachman, introduces his cake and main course creations.
Kitchenesia.com - The air feels different once the holy month of Ramadan arrives. What really sets Ramadan apart from other months is that every street comes alive, as early as 2 AM. Throughout the month – especially during iftar – food vendors occupy every corner of the road, serving mouth-watering Ramadan treats like kolak (banana cooked in coconut milk and palm sugar) and various fritters.
But for gluten-sensitive persons, finding safe treats – let alone tasty – seems like a lifelong battle. Ramadan foods are notoriously gluten-rich: baked bread drizzled with thick syrup, fried pastries with corn fillings, and many others. They can only join the festivity in spectator mode.
Luckily, some very dedicated chefs have made it possible for people with gluten intolerance to enjoy delicious flour-based foods safely.
Part of Mercure Jakarta Cikini, De'Kafe restaurant draws enthusiastic diners with its classic Indonesian fare. As the hotel welcomes the new executive chef Feisal Rachman, De'Kafe expands its repertoire by launching De'Rotie Bakery.
Read also: Mercure Hotel Cikini Central Jakarta, A Chic and Lively Hotel Beautifully Done
You almost cannot tell the difference
Here, the highlight is Lapis Surabaya (Surabaya spekkoek) which comes in two varieties: original and gluten-free. Chef Feisal Rachman puts quality to the forefront, with every process being done in the De'Rotie kitchen – under his supervision.
"We make everything from scratch. No third-party company involved," said Chef Feisal Rachman in an exclusive interview with Kitchenesia (12/10/2021).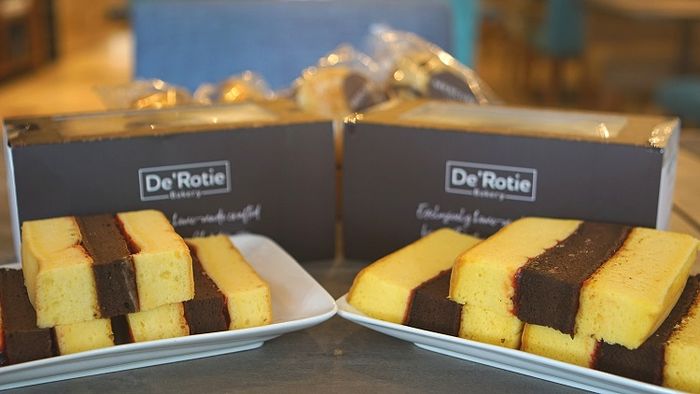 De'Rotie's Lapis Surabaya comes in two varieties: original and gluten-free.
Surprisingly, the gluten-free Lapis Surabaya comes with a soft texture, similar to its original counterpart. Flavor-wise, I found the sweetness level is just right. It was almost impossible to tell which one was which if the chef did not tell me earlier.
Lapis Surabaya by De'Rotie Bakery is a perfect cake to end your fast on a sweet note.
Read also: Exclusive Interview: Meet Chef Andrea Peresthu, Architect-Turned-Chef Behind the Hip Warteg-Inspired Eatery 'Biang Keladi'
Eat at your own risk
Embracing De'Kafe's traditional roots, the executive chef also introduces Iga Bakar Maranggi. You can feel Chef Feisal Rachman's take on local cuisine here: classic yet eccentric. It is more like a local-fare fusion – think two traditional foods fuse, creating a new food that is modern while still going local.
At about 300gr weight, Iga Bakar Maranggi provides the barbecued beef rib-eye that is slightly adhered to the bone, yet soft texture-wise. It is then drizzled with thick Maranggi sauce, a satay seasoning from Purwakarta. The combination creates a pleasantly smoky flavor, with a nice hint of sweetness and savory.
"Iga Bakar Maranggi is one of many main courses I created for Mercure Jakarta Cikini," said Chef Feisal Rachman.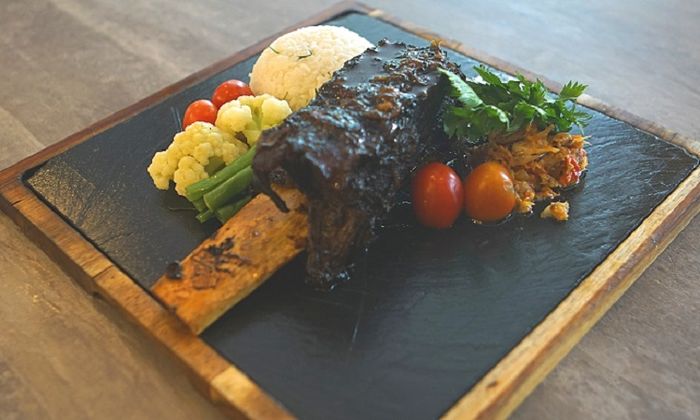 To enhance spiciness, Chef Feisal Rachman suggests enjoying iga bakar Maranggi with sambal gacor.
To add a flavor twist, Iga Bakar Maranggi is optionally complemented with sambal gacor. It is seasoned with aromatic ginger, shallots, red chili, and cooking oil – exuding spiciness and aromatic fragrance at the same time. You can only find sambal gacor in De'Kafe of Mercure Jakarta Cikini.
"The name (sambal gacor) is inspired by the hot sensation that it makes your lips swollen," said Feisal.
You may have heard dietary advice to stay off spicy food consumption during Ramadan. But with an irresistible combination of iga bakar Maranggi and sambal gacor, perhaps the potential risk is worth the experience.
Mercure Jakarta Cikini. Jalan Cikini Raya No. 66, Jakarta 10330.
Full video
Cek Berita dan Artikel yang lain di Google News