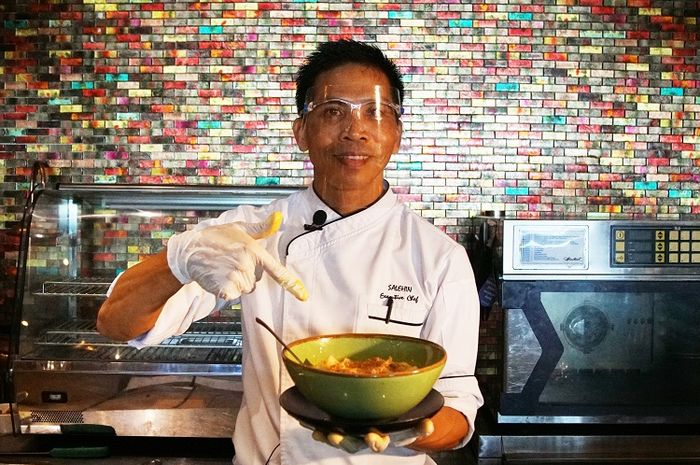 Executive Chef Salihin of Novotel Tangerang shows a bowl of Laksa Tangerang, his siganture dish.
No one can cook ayam taliwang like the Lomboknese
Living away from home for years, the Lombok-born and raised Chef always craved food that provided him with flavours and aroma. Local staples like seafood and spices, among others, felt like home for the chef.
"The first dish I've made professionally was bouillabaisse, when I apprenticed to a French chef in Lombok." He paid tribute to his hometown's nature's bounty by using lots of seafood, and whipping them up into the bursting-with-the-flavours French dish.
Baca Juga: Ibis Styles Mangga Dua Square in North Jakarta, You Don't Need the Most Expensive Hotel Room to Feel Safe
Chef Salihin mentioned his favourite dish was ayam taliwang, a grilled marinated chicken. When it comes to ayam taliwang, he firmly believed that nothing beats the Lomboknese. "I have tried countless ayam taliwang from the restaurants across the country. But nothing can come close to the appetizing ayam taliwang made by the Lomboknese."
With more than 20 years experience in the industry, Chef Salihin closed our deep conversation with advice to some aspiring chefs out there. "Having a good memory is really helpful especially during the busy hours like lunch. Last but not least, never stop learning."
It came as a surprise that a sip of a drink could lead into a deep, substantial conversation.
Full video: