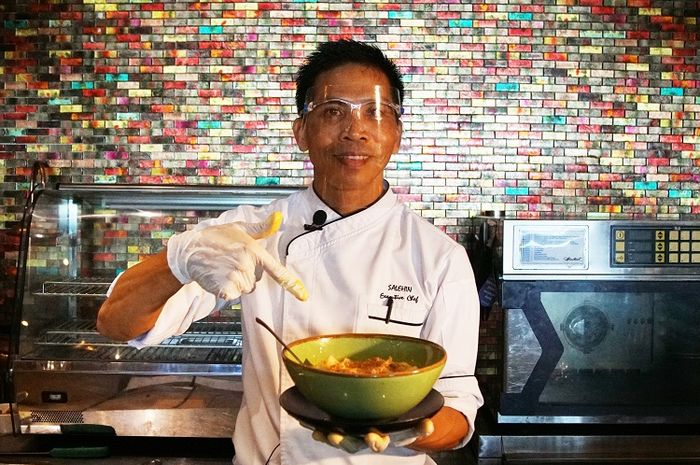 Executive Chef Salihin of Novotel Tangerang shows a bowl of Laksa Tangerang, his siganture dish.
Executive Chef Salihin of Novotel Tangerang talks about facing the 'unexpected' reality of the hospitality industry and ayam taliwang.
Kitchenesia.com - Being suffocated at home for nearly a year, finally I was able to loosen up my mind by staying a night at the nearest hotel.
I found myself in awe of the serene greeneries of Novotel Tangerang, with a tranquil garden and a resort-like pool that made up its surrounding. My attention, however, was distracted by the presence of Executive Chef Salihin, who offered me the signature drink green health. Some waiters said that it is common to see a high-ranking person greeting the guests personally.
Read also: Novotel Tangerang Banten and Its Simple Reasons Why Guests Will Likely To Return In the Future
While it's not quite at Flint Lockwood's level of invention, there have been quite a few fascinating food creations in Novotel Tangerang. Among the signature dishes are bloody mary burger, green chicken noodles, and green health smoothie that graced my dinner table.
Chef Salihin admitted that familiarity is his key factor in creating a food rendition. Despite coming up with myriads of crazy ideas, at the end of the day, sales matter most. "I reinterpret those common foods into something new," said the Lombok-origin Chef.
We have seen black burgers listed in many burger joint's menus, from the small shop in the neighborhood to the fast-food giant like Burger King. The trend has been going on over the last decade, and showing no signs of fading away.
Food creation that doesn't sacrifice convenience

While still jumping on the black burger bandwagon, he altered the ingredients a little bit. "Other chefs mostly use bamboo charcoal to blacken the patty. Here, we use pangium nuts. It is a natural food coloring for rawon (black beef soup)," said Chef Salihin.
The same motivation also applies to green chicken noodles, which he claimed to answer the demand for a healthy alternative to unhealthy food.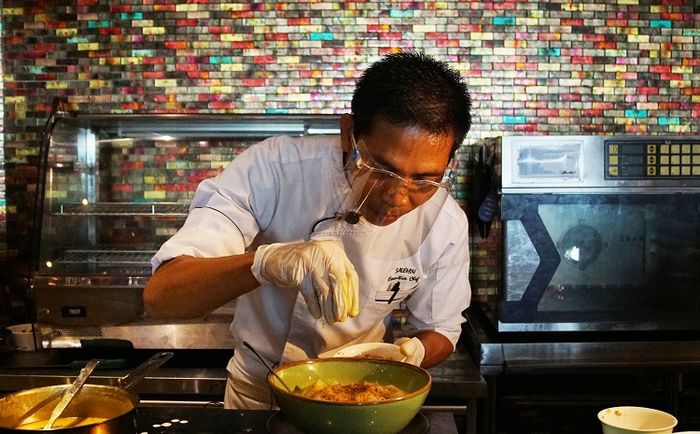 Executive Chef Salihin demonstrates how to whip up Laksa Tangerang.
Read also: The Number One Reason Why You Really Need to Eat Laksa Tangerang
The conversation moved from a casual attitude to more intimate intent as Chef Salihin shared his personal story. He began with telling the story of how the reality of working in the hospitality industry didn't live up to all his expectations.
"I had set my target to enter the hospitality industry after graduating from high school. But it came as a total surprise for me learning the fact that executive chefs in local hotels were mostly from overseas. Most of them were from France, UK, Australia, etc."
But at the same time, it ignited his trigger to achieve the position he is in today.
Tags