Learn how to make fulfilling and delectable Sapo Tahu (claypot tofu) for an iftar or a sohoor dish with this step-by-step recipe!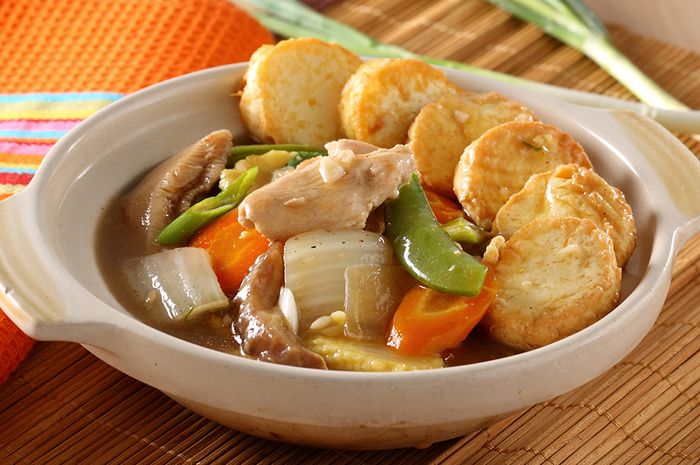 Resep Sapo Tahu Mudah Dibuat, Nikmat dan Bikin Perut Kenyang
Kitchenesia.com - Instead of plain fried tofu for sohoor dish, whip up this slurp-worthy Sapo Tahu (claypot tofu) instead. As one of Peranakan dishes, sapo tahu adopts best tastes and techniques from Chinese and local cultures, creating dishes that are known for their powerful and rich flavours.
Sapo tahu indeed takes many ingredients to whip up, but the yield is worth it as you will get fulfilling and delectable dish at the same time. Make one yourself from scratch by following our easy and hassle-free sapo tahu recipe below.
Prep time: 30 minutes
Yields: 6 plates
Ingredients
3 pieces of egg tofu, slice in circle then fried
150 grams carrot, cut on the bias
150 grams chicken breast fillet, sliced
3 garlic cloves, minced
1/2 piece of onion, diced
2 dried shiitake, soak in room-temperature water briefly then chopped
100 grams snow pea, cleansed
100 grams mustard greens, chopped
100 grams baby corn, chopped
1/2 tbsp fish sauce
1 tbsp oyster sauce
1/2 tbsp soy sauce
1 1/4 tsp salt
1/4 tsp white pepper powder
1/2 tsp sugar
1 tsp sesame oil
1 tbsp corn starch, dissolved in 1 tbsp water
1 scallion stalk, slice on the bias
500 ml water
1 tbsp oil
Cooking Steps
1. Heat oil in wok over medium heat. When simmers, add garlic and onion. Stir until fragrant.
2. Add chicken, and stir until brown. Add carrot, shiitake, mustard greens, and snow pea. Stir constantly until half-wilted. Add fish sauce, oyster sauce, soy sauce, salt, pepper powder and sugar. Stir well.
3. Pour water and stir until boiled. Add egg tofu and corn starch, stir constantly until the stock boiled and thickened.
4. Add sesame oil and scallion, stir briefly until blended.
5. Serve Sapo Tahu (claypot tofu) alongside steamed rice as a sohoor or an iftar dish.
Tags
PROMOTED CONTENT
Tags