Learn how to make Es Kuwut Bali (Balinese coconut and melon punch) for family's iftar opening drink with this step-by-step recipe!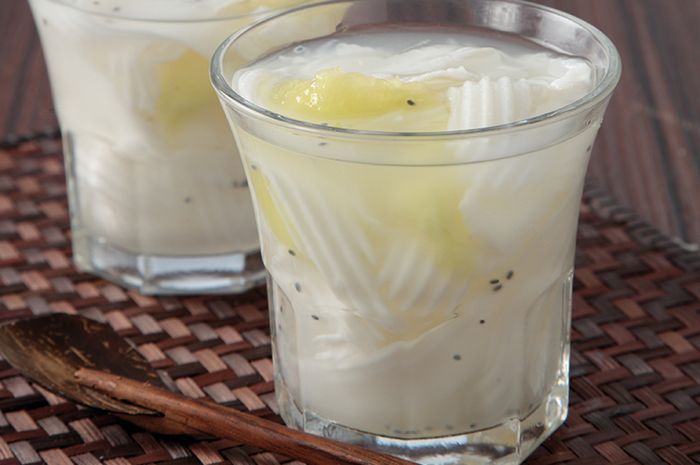 Meskipun Sangat Sederhana, Namun Kesegaran Resep Es Kuwut Ini Maksimal Banget
Kitchenesia.com - There is an abundance of recipes for traditional drinks of all kinds, from warm wedang to booze moke from Java and Flores island respectively. There are also traditional fruity, tropical vibe punch whose freshness can quench thirst in any seconds.
Beyond stunning beaches and magical temples, Bali has also a plethora of traditional drinks that cater anyone in any mood and season. Es Luwuh, traditional fruit punch from the island, employs green coconut and melon as the main ingredients.
You can expect how nutritious and refreshing this drink is from both ingredients alone. Behold, this fruit punch also mixes sweet and sourness from natural palm sugar and lime. What drink could give you this much?
Prep time: 25 Menit
Yields: 5 Porsi
Ingredients
3 green coconuts, scraped the flesh out and keep the water
200 grams melon, diced and discard the seeds
1 tbsp chia seeds rendam air
4 limes, juiced
500 grams ice cubes
For syrup
250 grams sugar
3 pandanus leaves
200 ml water
Cooking Steps
1. Place all syrup ingredients in pot and bring them to boil over low flame. When boiled, remove from the post then let it chill in room temperature.
2. Prepare five pints, distribute green coconut flesh, melon, and chia seeds equally into each of it. Share syrup, lime juice, and ice cubes to each pint.
3. Serve Es Kuwut Bali (Balinese coconut and melon punch) as iftar opening mocktail.
PROMOTED CONTENT
Tags