OPEN} Restaurant of DoubleTree by Hilton Jakarta – Diponegoro presents Rumah Rasa Breakfasting Package. It is a 3-set menu that consisted of delectable flavors of Nusantara.
Kitchenesia.com - DoubleTree by Hilton Jakarta – Diponegoro celebrates the holy month of Ramadan with special Rumah Rasa Breakfasting Package from OPEN} Restaurant. This package presents a variety of Indonesian cuisines and international favourites that is available for both takeaway and delivery.
Savour the delectable flavours of Nusantara specially curated by OPEN} Restaurant Culinary Team with the Togetherness Package. This package includes Ramadan appetizer favourites – such as date fruits, banana kolak and mix of fritters – assorted salad, assorted soup, steamed rice, Indonesian main courses – such as Javanese-style,
Fried Noodles, Beef Rendang, Beef Empal Balado, Honey Roasted Chicken, Balinese-style Grilled Fish with Sambal Matah and more – also assorted fresh fruits for dessert. Take these foods to go or have them delivered right to the doorstep, relish these premium cuisines with family and friends for only IDR 588,000 net for up to 4 persons.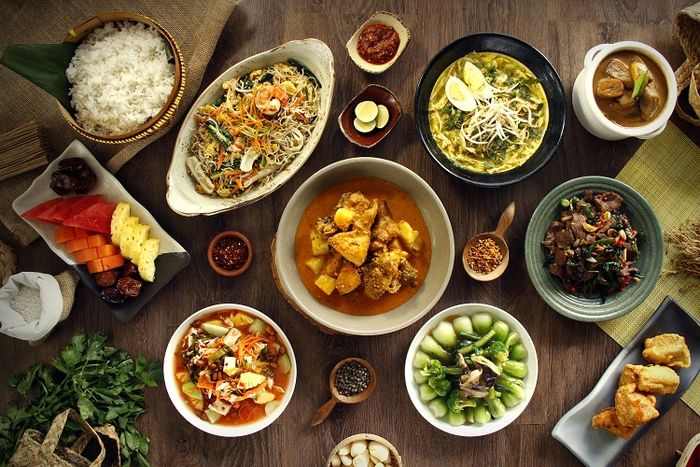 Set Menu 2 of Rumah Rasa Breakfasting Package, a Ramadan-special set menu made by OPEN} Restaurant, DoubleTree by Hilton Jakarta – Diponegoro.
Guests can also enjoy Special Meal Box for a selection of complete Indonesian meals. These comfort foods include Nasi Rendang, Nasi Rames, Nasi Ayam Bakar, Nasi Ikan Bakar Sambal Matah, Kwetiau Ayam Goreng and Nasi Goreng Kambing, for only IDR 68,000 net.
Then, close the meal with delightful local desserts from Sweet Ramadan selections, featuring Klepon Ramadan Cake, Pandan Regal Cake and Green Velvet Cake for only IDR 250,000 net (whole cake).
OPEN} Restaurant is now accepting orders for Rumah Rasa Breakfasting Package, available for takeaway with free delivery within 3 km radius from the hotel (terms and conditions apply).