Learn how to make Tumis Bayam Taoge (sautéed spinach and mung bean sprout) for family's dinner with this step-by-step recipe!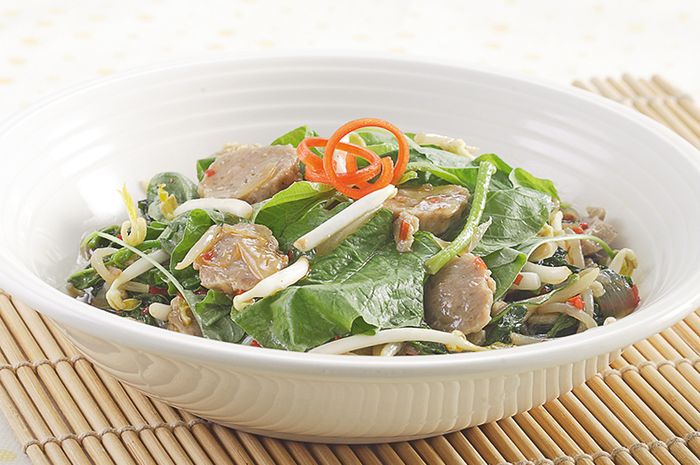 Resep Tumis Bayam Taoge Enak, Meskipun Sederhana, Rasanya Mantap Jiwa
Kitchenesia.com - You too can still whip up something satisfying. Tumis Bayam Taoge (sautéed spinach and mung bean sprout) employs variants of greens and meats, making it a delicious side dish that is also nutrition-packed.
Whip up this dish with grab-on ingredients that you store in fridge, in less than 20 minutes. Serve alongside steamed rice to keep you energized. Follow the recipe below to make one yourself at home.
Prep times: 20 minutes
Yields: 3 bowls
Ingredients
2 bunches of spinach, plucked
100 grams mung bean sprout
3 beef meatballs, chopped
3 garlic cloves, minced
5 shallots, minced
2 red chillies, chopped
1/2 tbsp oyster sauce
1 1/4 tbsp salt
1/4 tsp pepper powder
1 tsp sugar
100 ml water
2 tbsp cooking oil
Cooking Steps
1. Heat oil in pan over medium fire. Add garlic, shallots, and chillies to the pan and stir until fragrant.
2. Add meatballs while stirring. Add mung bean sprout and spinach, stir constantly until half-wilted. Add oyster sauce, fish sauce, salt, pepper powder and sugar to the pan. Stir well.
3. Pour water while stirring. Keep stirring until blended and cooked.
4. Serve Tumis Bayam Taoge (sautéed spinach and mung bean) alongside steamed rice as an iftar or sohoor dish
Tags
PROMOTED CONTENT
Tags