Toba's Arsik & Cipera is one of variant in
Kitchenesia.com - Welcoming the holy month of Ramadan, JW Marriott Jakarta offers as special menu for Iftar with a new concept, Iftar To You. Complying to government's large-scale social restrictions, JW Marriott Jakarta safely delivers enjoyable various Ramadan dishes straight to home, prepared by Sailendra Restaurant's culinary team.
There are five available menu options ranging from different parts of Indonesia, such as: Mandalika's Rijsttafel, Toba's Arsik & Cipera, Nasi Kebuli Komplit, Nasi Gudeg Komplit and "Peduli" Set Menu. Each set is inclusive of takjil, appetizers, main course, rice, soup, vegetables, various homemade sambal, crackers and desserts, unique to each cuisine.
A set menu for up to 4 persons starts from IDR 700,000 net, for up to 8 persons is IDR 1,500,000 net. Each set menu includes a bottle of healthy jamu "Empon-Empon", an herbal elixir to boost immunity naturally. For customers who would like to give to others, 'Peduli' Set Menu is also available for single portion at IDR 150,000 net.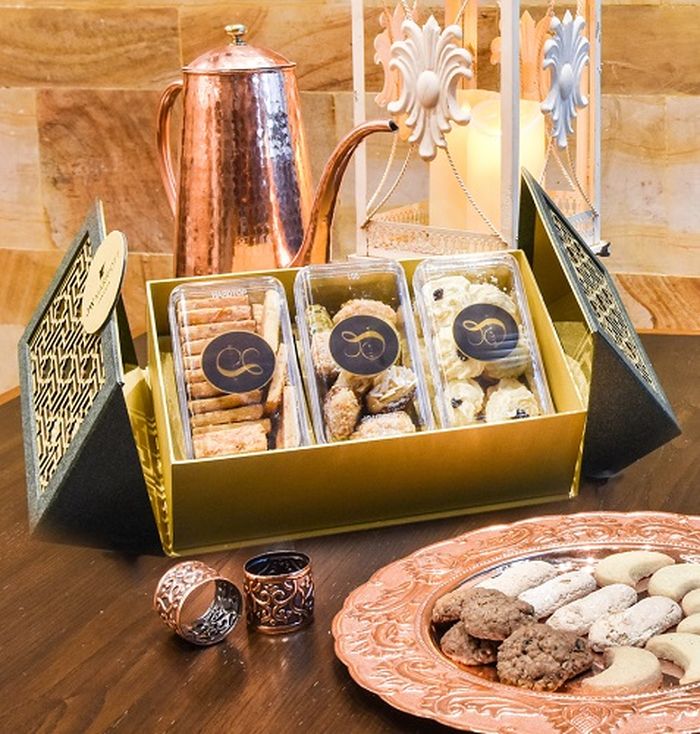 Ainun Hampers includes classic Eid Al-Fitr cookies such as: Nastar, Kaastengel, Sagu Keju, made by pastry team of Sailendra Restaurant of JW Marriott Jakarta.
"One of the dishes that I would like to highlight is Gecok Babat – a menu from my hometown, Sumbawa in Nusa Tenggara Barat", says Executive Sous Chef Heri Purnama. "It is reminiscent of my childhood," adds Chef Heri Purnama. Gecok Babat can be savoured in the 'Mandalika Rijsttafel' set menu.
The pastry team of JW Marriott Jakarta also creates a variety of Lebaran cookies with premium ingredients to welcome Eid Al-Fitr. Various Lebaran cookies such as: Nastar, Kaastengel, Sagu Keju, are few of the options for the hampers. These hampers are available in two packages: 'Ainur Hamper' for IDR 700,000 net and 'Bayran Hamper' for IDR 1,200,000 net including tasbih and praying mat.
Through JW CARES, JW Marriott Jakarta will donate 10% from the total sales of 'Iftar To You' along with other products to the community, as well as providing complimentary boxes for drivers who pick up the orders.