Learn to make tasty and comforting fried rice with anchovy at home with this step-by-step recipe post.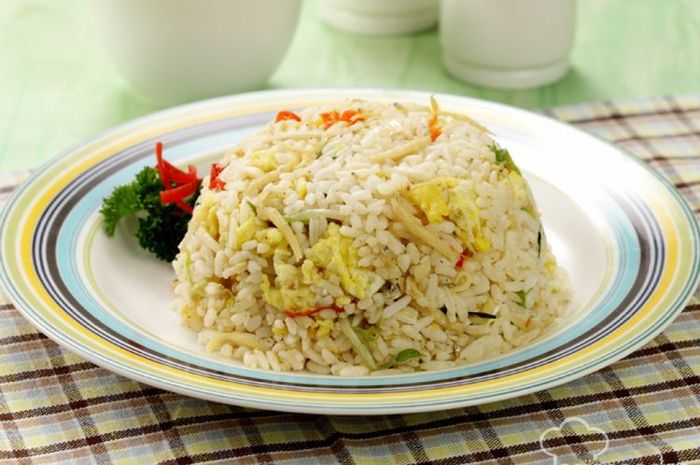 Nasi Goreng Teri (fried rice with anchovy)
Kitchenesia.com - Breakfast is scientifically proven to be the most crucial meal of the day, yet it is also the most forgotten meal for most people.
In fact, nutritious breakfast doesn't require much time and effort, just like this fried rice with anchovies. In less than 30 minutes, this breakfast meal can fulfill your stomach until lunchtime; And, prepare your energy for the big game at school and work.
Duration: 30 minutes
Yields: 20 servings
Ingredients
2.500 kg steamed rice
100 gram garlic, minced
125 gram cayenne pepper, julienned
5 eggs, beaten
500 gram mung bean sprout
25 ml fish sauce
1 1/2 teaspoon powdered chicken broth
2 1/2 teaspoon salt
1 1/4 teapoon pepper
5 leek, chopped
300 gram fried anchovies
250 gram pineapple, chopped
150 ml frying oil
Cooking Steps
1. Stir-fry garlic then add cayenne pepper until fragrant. Slide them off to the edge of wok.
2. Add beaten egg. Stir until bubbling. Add mung bean sprout and stir-fry until wither.
3. Add rice, stir constantly. Add fish sauce, chicken broth, salt, and pepper. Stir until brown thoroughly.
4. Add leek, anchovies, and pineapple. Served while hot.
Tags
PROMOTED CONTENT
Tags