Pink color tapioca pearl is in perfect combination with white nata de coco and coconut milk. It surprisingly results in yummy taste also.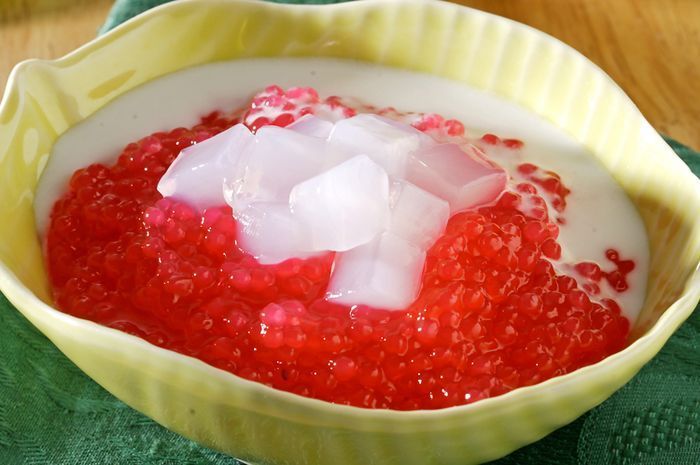 It looks so inviting from its outward look, the taste won't betray
Kitchenesia.com – From outward, Bubur Sagu Mutiara (Tapioca Pearl Porridge with nata de coco) looks appealing and it goes in line with its sweet taste and bouncy yet slurpy texture from tapioca pearl.
A portion of it for breakfast will keep your appetite steady. Have a try! The steps won't bother you
Duration : 45 minutes
Yields : 4 servings
Ingredients
775 ml of mineral water
1/4 teaspoon salt
2 pandan leaves, tied
100 grams of white pearl sago
1/2 teaspoon of pink coloring
100 grams of granulated sugar
75 grams of nata de coco for supplementation
Ingredients for sauce:
350 ml of coconut milk from 1/2 coconut
1/4 teaspoon salt
1 sheet of pandan leaves, tied
Cooking Steps
1. To make the porridge: boil water, salt and pandan leaves until it boils.
2. Add white pearl sago and pink coloring. Cook until it is well-cooked while keep on stirring it. Add sugar. Stir until thick.
3. To make sauce: boil coconut milk, salt, and pandan leaves while stirring it until it starts boiling.
4. Serve porridge with sauce and nata de coco.
Tags
PROMOTED CONTENT
Tags