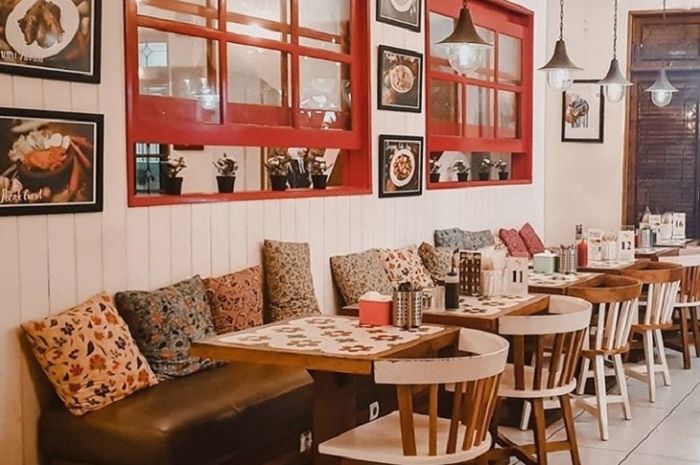 Front view of Mlinjo Cafe and Resto
Kitchenesia.com - If I were to describe "Mlinjo" in a song, it is "I knew I loved you before I met you". It is only getting intensified as I expose myself with its homey and cozy nuance.
Though not exceptionally luxurious, snuggled at Kemuning Street No.50, RW.1, Jatipulo, Palmerah, West Jakarta, "Mlinjo" still alluring with its seemingly frugal view; it proves only the reverse.
As my sight goes on tracing the nook and cranny, I'm especially stuck with the painting on the wall that resembles Javanese queens such as Srikandi. It feels like I'm dragged immediately to another epoch.
Later did I know, it is Ratna's (the owner of the restaurant) daughter, Yuli's painting. She took a major in fine art in Nanyang Academy of Fine Art. I'm intrigued to know their underlying reasons the opening of the place.
Yuli tells me that her mother has been so passionate about cooking and I can tell from her eyes, it is vividly projected. One of inspiring figure worth to brag in commemorating International Women's Day, with the hope of a lot more passionate women will pursue their true calling, just like Ratna with her endless culinary inquiry.
Bring the local gems of Pekalongan to capital
I thought, "Mlinjo" comes up after philosophical enactment of its owner, Ratna. It turns out for the sole reason of the word being such a catchphrase. It consists of only two syllables, "Mli" and "njo". It hums easily to our ears but will most probably stick in our heads right away; and she couldn't be more correct with it.
The underlying reasons behind the opening up of "Mlinjo" Café and Resto rather noble, it triggers by the lack of Pekalongan high-end food stalls in capital. So, she later came up with the notion of initiating one.
It came to a realization in 2015, in a scale of test drive at Gajah Mada Plaza before it moved to the current place, in which more spacious so it can cater a lot more costumers unlike the former one.
Refining and preserving the taste of the local cuisines