Follow this recipe for quick, easy, and delicious Yellow Fish Soup is ready to satisfy everyone's apetite!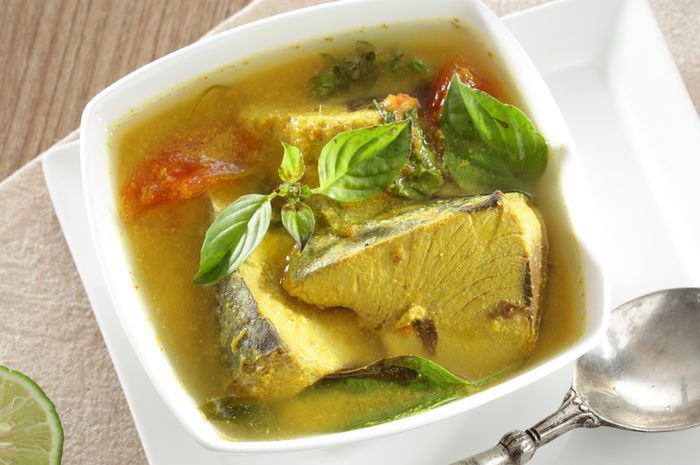 Ikan kuah kuning is delicious food to warm body during rain season.
Kitchenesia.com - Popular fish food in Indonesia is often fried or stewed, like pecel lele (fried catfish with raw vegetables salad) and ikan bakar (grilled chicken).
There are also underrated fish dishes in Indonesia, like this tasty Ikan Kuah Kuning. This soup utilizes several kinds of herbs and spices, making it is not only fragrant and tasty, but also healthy.
Duration: 45 minutes
Yields: 5 servings
Ingredients
750 gram skipjack tuna, chopped
2 teaspoon lime juice
1 teaspoon salt
3 kaffir lime leaves
1 lemongrass, crushed
6 bird eye's chilies
1 bunch of lemon basil, plucked
2 1/4 teaspoon salt
1 teaspoon sugar
1.250 liter water
Ingredients to grind:
6 shallots
3 cloves garlic
2 ginger
3 cm turmeric
3 candlenuts
Cooking Steps
1. Marinate fish with lime juice and salt
2. Boil water in a pan. Add tomato, kaffir lime leaves, lemongrass, and ground paste. Boil until wither.
3. Add fish to the pan. Add salt, sugar, and chilies. Then add lemon basil while stirring.
4. Serve with rice.
PROMOTED CONTENT
Tags