Follow this easy recipe for delicious, no-fail guarantee corn fritters, must-have delicacies for spending leisure time with family!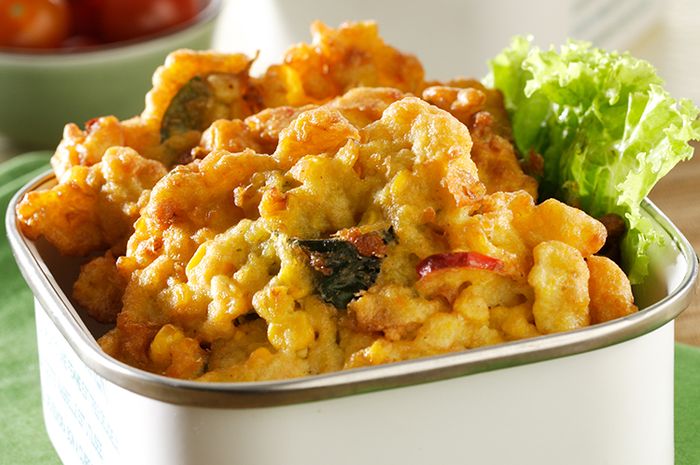 Bakwan Jagung Kemangi (Lemon Basil-Scented Corn Fritters),
Kitchenesia.com - If you like the sensation of sweetness of corn cernel, crispy-on-the-outside, and tender-on-the-inside food, you'd definitely love this dish. This lemon basil-scented corn fritters are good to introduce kids with veggies as they are full of hidden vegetables but their tastes are still apparent.
These corn fritters are tasty and simple, and will make everyone in the house satisfied.
Yields: 15 servings
Ingredients
5 sweet corns, peel of the corns' shuck then remove the kennels
3 lemon basils, pluck the leaves
2 leeks, sliced
125 gram all-purpose flour
25 gram rice flour
1 tablespoon tapioca flour
1/8 teaspoon white pepper
2 teaspoon salt
1/2 teaspoon white sugar
150 ml water
2 chicken eggs, beaten up
1 liter of frying oil
Ingredients to ground together:
1/2 teaspoon shrimp paste, burned for a moment
6 shallots
2 cloves garlic
½ teaspoon coriander seed
Cooking Steps
1. Mix corn kernel, lemon basils, leeks, all-purpose flour, rice flour, rice flour, white pepper, salt, and ground ingredients altogether in one bowl.
2. Add water and beaten eggs into the bowl. Mix well
3. Take a handful of dough with spatula. Flat it with hands.
4. Fry flatten dough on a medium fire until brown.
PROMOTED CONTENT
Tags