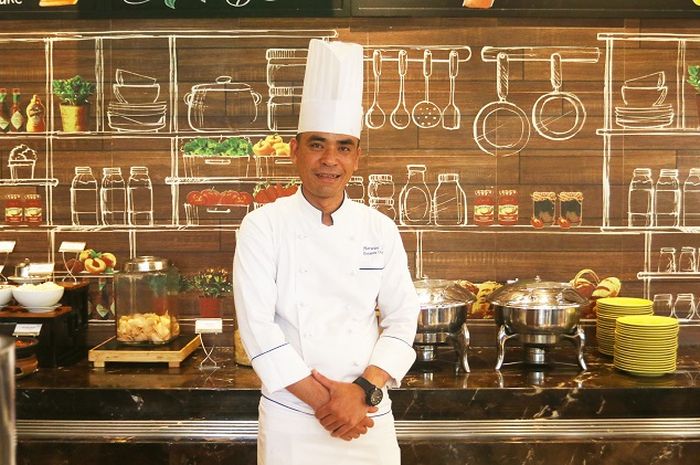 From Street to Fine-Dining: Chef Herwan Setiawan From Mercure Hotel Cikini Talks About His View in Street Food
Kitchenesia was given an opportunity to talk with Chef Herwan Setiawan. Learn how he changed bad reputation of local street food from dirty to classy.
Kitchenesia.com - Chef Herwan Setiawan just began working at Mercure Hotel Cikini for less than a year ago. During that one year, he has been making some breakthroughs. The Jakarta-based chef uses food destined to be eaten on the street and transforms them to be fine-dining dish at four-star Mercure Hotel Cikini, Central Jakarta. Intrigued? We were too!
As a kid, he grew up closely with street food sold near his schools. Now that he secures the highest position in the kitchen, he brings up the memorable taste of street foods to tables of hotel guests. In the hand of the chef with 12-year-experience, cheap-looking street food looks fancy but still keeps its original taste. Even though his creation gathers good appreciation from guest, he gets a lot of hardship, too.
From an online source, you said that "I have a mission to raise the profile of Indonesian foods, and make Mercure Cikini the only place to experience it." Then, what are they?
I really love Indonesian street foods like bakso (meatball soup) and fried rice. As a chef, I often mulled over the fact that street foods are considered as cheap and dirty. Indonesian street foods are rich in flavors whose history can be traced back to hundred years ago. They are worthy to have their class elevated.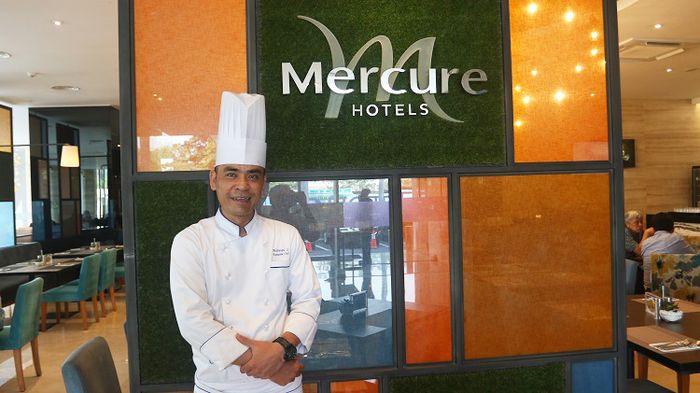 Chef Herwan changed bad reputation of local street food from dirty food to fine-dining delicacy
I remodel street food to be fancier by making it visually appealing, by using garnishes or purees. Also, I fuse Indonesian and western foods without reducing local flavors of the dish. For example, this month's promo is Fried Rice Fiesta. It is a special event where we exhibit authentic creations of traditional fried rice but with fancy plating and a little bit western touch.
What do you do to make foreign tourist familiar to Indonesian food? As we know, the latter is known for its eclecticness in flavors and spiciness, which some people don't like.
Most of the time, I substitute some ingredients whose fragrant and flavors are similar. You never find bitter bean in any hotel dinings, but it is an important component in some foods, especially Indonesian foods. Therefore, I replace bitter bean with mushrooms. Both share the same texture and flavor, but mushroom doesn't have pungent smell like bitter bean.
For some cases like ayam taliwang, I add some veggies to tone down the spiciness. Surprisingly, it works. Ayam Taliwang was our best-seller dish for past few months among overseas tourists.
Quoted your statement on online media "Indonesian food is the most challenging cuisine I have ever created", why is that?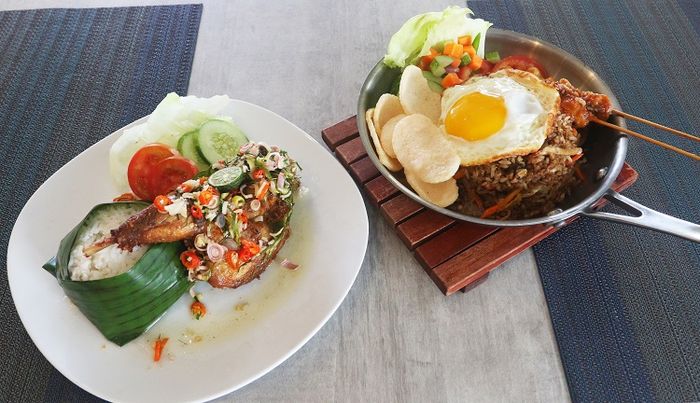 Mercure most-favorited dishes, ayam taliwang (left) and nasi goreng cikini (right)
Indonesian food is challenging because I didn't have much experience about it. I used to work in overseas a lot: in Dubai and Japan, thus my skill in cooking local food is rarely used. Prior to Mercure, I actually have worked in several local hotels, but Mercure is the only hotel that provides strong touch of local.
Alhamdulilah (thank God), I am blessed with supportive teammates who always got my back. Even though this is my first year in Mercure Cikini, but everyone here treats me equally.
What are food experiences in Mercure Hotel Cikini that I cannot find somewhere else?
I think Mercure Hotel Cikini is the only hotel providing cooking class for kids. Thus, when children are having fun at cooking class, the parents can have fun too by having an intimate breakfast together. We are really family-friendly, you know (laugh).
We also serve variations of local street food that we treat like fine-dining courses. While upscale hotels highlight western food most of the time, Mercure provides local street food whose flavors are authentic but done in style, with fine presentation.
I also want to promoto our current creation, nasi goreng Cikini (Cikini fried rice). It is all-in-one dish with slices of chicken, prawn, and cracker. Portion is plentiful, the taste is flavorful. You will never find it anywhere, guaranteed!