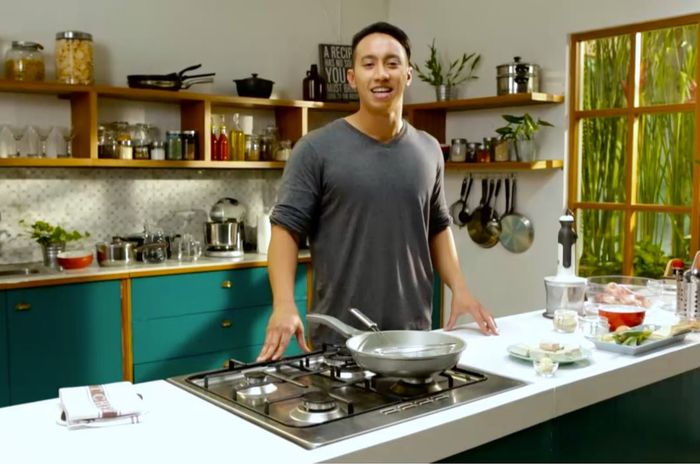 Celebrity Chef Yuda Bustara Revealed His Secret To Stay Sturdy While Still Eat Everything
Kitchenesia met Chef Yud Bustara, a 32-year-old chef who often appears on TV recently. He shared about his secret in fit body while still enjoy fast food.
Kitchenesia.com - At 7 years old, children commonly are aspired to be a doctor or pilot or some other heroic jobs they see on TV. But the 7-year-old Yuda Bustara knew that he wanted to be a chef. While his peers watched cartoons on weekends, he loved to watch Chef Sisca Soewitomo's Aroma on TV.
"Easy, isn't it?" said Yuda Bustara as he imitated Chef Sisca's jargon on Aroma. Aroma is the first cooking show airing on Indonesian TV network. It had been broadcasted since 1996, and reached the final episode in 2011.
Chef Yuda Bustara on cook attire
His desire in cooking grew bigger as he reached adolescence. He decided to learn cooking formally at Taylor's Collage and Universite Le Mirail School of Hospitality and Tourism in Malaysia. His education hit a bump in the way, but he knew he'll be fine - he just needed to redistribute his assignments and keep going.
"During my first days in college, I peeled tons of onions and potato for 14 hours every day," said the buffy-shaped chef as he recalled his training days. "'Are these things even useful to my culinary career?' I desperately thought, but then I realized everything I learned at school did make an impact. It taught me about resillient."
His hardwork paid off: he hosts two cooking shows on Asia Food Channel broadcasted in 13 countries; trusted by famous food brands to be their Brand Ambassador; and being a food influencer for national-scal food events. While enjoying his peak days, Chef Yuda Bustara never forgets to encourage his followers to live healthily in fun ways.
As stated on your website, your mission is to encourage people to eat healthy, eat yummy, and cook simple. I believe such food is really rare. Do you think your goal is not far-fetched?
Health starts from balance. It would be pointless if people eat salad every day, but they smoke hard and never exercise. I encourage people to practice healthy lifestyle as a whole. We can achieve healthy living by doing simple things, like choosing no-oil frying pan, or keep portion size under control.
Also, I believe that people would choose to eat healthy if they have an opportunity to do so.
You look healthy and strong despite your fondness in eating food like instant noodle and nasi padang (Padangnese-style dish with various side dishes). Any secret to stay ripped and eat tasty?
I think people in general assumed that if they want to start healthy lifestyle, they're doomed to haved a growling stomach until they reach their goal. I object this highly. Healthy lifestyle should be continous, if possible, forever.
Tags